It has been almost 12 years since the release of one of the highest grossing films of all time – that being 2009's Avatar, James Cameron's sci-fi epic.
There has been a running meme for the last couple years that despite the first Avatar film's wild success in the box office, it isn't a memorable film. The characters aren't memorable, the storyline is a copy and paste of 1990's Dances With Wolves, and that its success hinged on the technological breakthroughs in CGI and 3D film that were a staple feature of the film.
In retrospect, the running joke isn't far from the truth. Avatar is a film that hasn't held up for casual viewers on its own merits, but rather through nostalgia of a time that has long passed – a time before the insanity of the last 10 years in the social and political scene, where most people were more concerned about the film's core messages; that being a deeply environmentalist film, a critique on colonialism, and the insatiable appetite of human discovery wreaking havoc on innocent and more noble creatures.
While there are aspects of the original film I enjoy, such as the detailed world-building that Cameron is known for, and the cutting edge visual effects, it still failed to resonate with me the way it has with many other viewers.
The preaching was exhausting when I watched it the first time in 2009, and it is still exhausting today. I get it. Humans are bad, save the trees, the military industrial complex is so evil, etc, etc.While the second installment Avatar: The Way of Water certainly delves a little deeper into the lore and ups the stakes for the protagonists, it still carries the same bare-bones environmentalist sermon that has become all too exhausting in this day and age, especially when we have Extinction Rebellion and Just Stop Oil cronies ruining fine art and causing general inconvenience to all those around them in our current reality.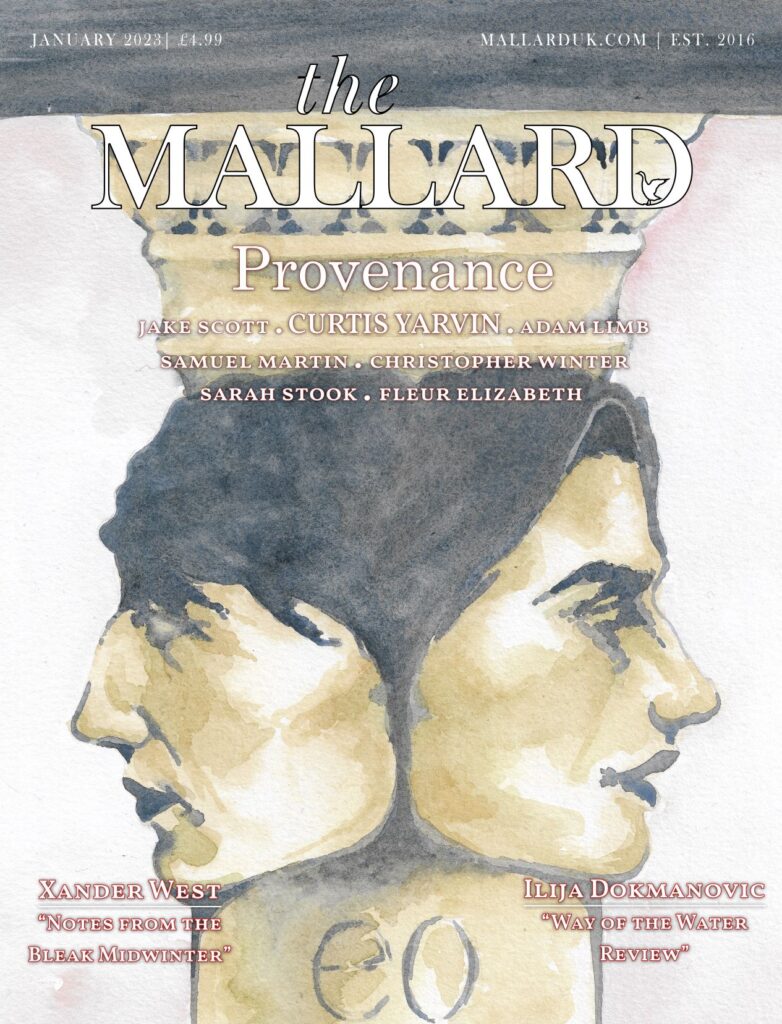 This is an excerpt from "Provenance". To continue reading, visit The Mallard's Shopify.
---
You Might also like
POC are just like you and me. Sure, there are technical, mostly visual, differences between us. However, considered in the grand scheme of things, such differences are quite trivial.

Far from a weakness, this diversity is a strength; we all play a role in moving our democracy forward, and ensuring the public realm remains a lively and vibrant place. Of course, by POC, I am referring to People of Commentary.

POC are everywhere. Turn on the television and you'll be greeted by POC. Scroll through any social media feed, and without much effort, you'll find posts made by POC. Walk through the middle of London, and soon enough, you'll sight chattering congregations of POC.

Given the apparent omnipresence of POC, one eventually begins to ask: where did they come from? Were there this many POC in Britain 50 years ago? Yes, I know I'm pushing my luck.

In all serious consideration, the voice of commentators, self-described or not, for better or for worse, constitutes a large chunk of public, especially political, discussion in Britain.

Conversely, and it would seem simultaneously, we have witnessed a rapid decline of public intellectualism over consecutive decades. Indeed, the noted absence of intellectuals from public life is underscored when most people struggle to define what an intellectual actually is.

Many are inclined to believe that the British are, by their very essence, an anti-intellectual people. Distrustful of abstraction, they very much prefer a hodgepodge philosophy of empirical observation and sainted "Common Sense" – both of which, especially the latter, intellectuals supposedly and infamously disregard.

An immediate glance at ongoing matters would support this position. Despite the fundamental disagreements constituting the "Gender Wars", it is clear that both sides consider Britain, thankfully or regrettably, uniquely resistant to transgenderism. In my view, this can be traced to our Anglo-Saxon forbearers, who gradually removed the notion of gendered words in our language besides the ones which speak to the empirical (that is, biological-anatomical) distinction between men and women.

All this said, empiricism isn't exactly synonymous with "anti-intellectualism", just as the names Francis Bacon, Thomas Hobbes, David Hume, George Berkeley, or Edmund Burke rarely come to mind when discussing "anti-intellectuals". We can safely assume that intellectuals primarily deal in ideas, but we can't safely assume said ideas are purely rationalistic and abstract.

Herein lies the distinction: there's a difference between contemporary "anti-intellectualism", which has contributed to the explosive ascendancy of POCs, and the "anti-intellectualism" which is distinctly "intellectual" in nature – pertaining to the limits, rather than uselessness, of intellectualism-as-abstraction. As such, we should consider post-war anti-intellectualism as a degeneration of a healthier and more measured position.

Without placing too much weight on the origins of Britain's post-war anti-intellectualism, I would argue that such a precise attitude be attributed to the popularity of the ideas of George Orwell, as conveyed by cultural osmosis, rather than extensive reading; specifically, his preoccupation with 'Ordinary People' and the ways in which they are different to the class of 'Intellectuals' whom Orwell sought to disassociate himself.

---

We live in an age of lost souls. Most do not recognise this consciously, nor would they wish to, yet wastelands abound subconsciously and emotionally. With that said, are many of us truly living? I cannot answer that question with complete confidence. What meaning is there to be found from a mass of emotional wrecks tucked safely away in their boxes, their lives mostly spent on screens and engaged solely in consumption to fill the void where one's mind might just be lent the space to construct a human being? God forbid one person develops any attachment to another, for following such a world-ending eventuality the world might begin!

It may seem this situation of inner vapidity and misery is unique in the history of mankind, in large part due to the role of the internet in accelerating a constellation of societal problems. However, in tracing a lineage to the start of what is conventionally considered modernity we find another reaction against a soulless world in Romanticism. The Romantics fought the beginnings of the far more advanced creature that publications like this one react to now, hence the betrayal of their world holds lessons for the ongoing ruination of ours.

We must begin with the imagination, that most playful and frenetic component of the mind. It defies all reason and all rationality in being more attuned to one's emotions, however deep-seated, than the rules dictating one's circumstances in reality. Romantic introspection does not occur for the sake of modern obsessions of self-improvement, but for the inner activity of spiritually hungry souls to then be cast upon the world as art. The imagination also serves as an invitation to the infinite, an escape towards higher forms from one's limitations. This is crucial to understanding every facet of Romanticism, as well as the lessons it might hold for the present. The movement emerged as a reaction to the nascent Industrial Revolution and the Enlightenment of the eighteenth century, both of which certainly sought to dampen the power of irrationality over the world. Instead of contemporary fashions of reason or empirical sensation, intense emotion controlled these artists' outpourings onto canvas or page. Their works were not just about love, as the movement's name implies, but the whole range of human emotions, since that is what the imagination can draw upon.

---

'The idea is like a pair of glasses on our nose through which we see whatever we look at. It never occurs to us to take them off' – Ludwig Wittgenstein, Philosophical Investigations

We are all Blairites now. It is a horrible thought, especially to those of us who despise the Blairite constitutional project: from gutting the Lords to the creation of the devolved assemblies, and the paradoxical tension between the move towards localism and the edictal erasure of British ways of life. The sad reality is that we live in Blairite Britain, more than we live in Thatcherite Britain.

Such a thought, as uncomfortable as it is, must be the starting point of all conservative discussions, whether they are concerned with strategy, identity, or even over what we aim to 'conserve', because we can only begin to know where to go by knowing where we are. David Foster Wallace once gave a talk to a graduating class in which he told the following story:

There are these two young fish swimming along, and they happen to meet an older fish swimming the other way, who nods at them and says, "morning boys, how's the water?" and the two young fish swim on for a bit and eventually one of them looks over at the other and goes, "what the hell is water?"

The story is intended to remind us of a simple truth: that the most obvious realities are the hardest to talk about, because they are so essential and taken for granted in our daily lives. Blairism is the cultural water we swim in, and the current that drives us inexorably towards the next crisis we cannot resolve, because Blairism holds the conflictual beliefs that government should be in every part of our lives, but that it should be so completely and utterly impotent. Think about how difficult it is to do anything in modern Britain, but that you absolutely must do it whilst holding the hand of the government.

Regardless of Blairism's inherent contradictions, we must not ignore the tide, even if only to swim against it. How do we do this? In Modern Culture, Sir Roger Scruton wrote that we cannot

return to a pre-Enlightenment world because the Enlightenment is so inherent to how we think about society, Man, government, culture and so on. Even those of us who are believers in faith must accept that the draperies were torn down; but only by realising they were torn down can you put them back up. So, rather than deny the legacies of the Enlightenment, Sir Roger says, we must accept that they are with us, and instead 'live as if it matters eternally what we do: to obey the rites, the ceremonies and the customs that lend dignity to our actions and which lift them above the natural sphere'.

The philosophical movement that took this lesson to heart the most, in my opinion, was the Romantics. They did not pretend that the legacies of the Enlightenment were so easily eradicable nor so easily deniable; instead, they accepted that they lived in a changed world, but sought to use that change to re-suture man's relationship with himself, to correct the deficiencies of the Enlightenment and the empty rationalism that it loved so irrationally.

The Romantic movement, by virtue of its own logic, was not universalist. The Enlightenment sought to be universal, to find laws and rules that governed Man in every circumstance and every place; but Romanticism, in reaction, favoured particularism, rootedness, and the cultural significance of place and people. In fact, so many of the nationalist movements of the nineteenth century owed more to the Romantics than they did to the Enlightenment (but again, only in the sense that the Enlightenment showed us that all humans are deserving of dignity and respect, they just choose to express that dignity in varied ways).

One such example of Romanticism that has always fascinated me emerged in Russia in the 1830s, more than anything because I believe that Russia then holds a multitude of lessons for Britain now. Early-nineteenth century Russia experienced what could only be described as an existential crisis: the Napoleonic Wars had damaged Russia's understanding of herself as the great military power of Eastern Europe, and brought many ideas of universal brotherhood into contact with a society that did not even have the intellectual framework to accommodate such thoughts. But the crisis went deeper: as much as one hundred and fifty years before, Russian society was shaken by external ideas, more than any invasion could have hoped for, under the Reforms of Tsar Peter the Great. The Petrine Era of Russia saw cultural changes from the top – governmental reforms, military reforms, and technological innovation, much of which modernised Russia and made her into a Great Power; but these changes did not go unquestioned. In fact, many of the influential groups in Russia rebelled, sometimes violently, as in the Moscow Rising of the Streltsy in 1698.

The legacy of Peter's reforms, however, were not felt until much later. Of course, all major cultural and social changes take time to really be felt at all, but the 'short eighteenth century' was a time of such rapid and dislocating change – across all of Europe, but especially in Russia – that many generations found themselves intellectually and culturally cut adrift from those who came immediately before them. Peter, pursuing a programme of Westernisation insisted, for instance, that the Russian court speak French, a language thought of as 'intellectual' (with good reason); dress like the Prussian court; rationalised the military along the Western European lines; built an entirely new town on a North Italian design (St. Petersburg – of course); and, in one of my favourite little quirks of history, outlawed beards in that city's borders.

Cultural issues grow like pearls grow – a single grain of sand works its way into a mollusk, and irritates the mollusk in such a way that bacteria and calcium grows around it. Cultural changes irritate the social fabric of the community it works into; but we don't have bacteria to grow around it, we only have each other. Yet we can understand cultural issues in the same way as a pearl – an irritant works its way in, and we grow that irritant into a recognisable tangible entity, by coalescing around it and growing it in such a way that it becomes instantly recognisable.

This is what led to the Slavophiles. Petrine Russia thought it was undefeatable – and from the Great Northern War onwards, it very much was – until Napoleon came roaring in. But the Napeolonic Wars did two things for Russia, both with the same outcome; the first was importing many ideas into Russia that challenged the existing understanding of Russian political and social structures; the second was, in the same way Soviet soldiers pushed Nazi Germany back into Europe, Petrine soldiers followed Napoleon back into Europe. In both instances, educated Russian men saw the way Europeans lived, and realised that their society was not the improved form that their reforming leaders dreamt of.

And just as with a grain of sand in a pearl, the cultural dislocation of Peter's reforms that had long irritated the reactionary elements of eighteenth-century Russia, was seized on by many of the early-nineteenth century intelligentsia as a means of explaining the situation in which they had found themselves. This fermented a series of backlashes, intellectual and cultural, that led to an explosion of political movements, such as the terrorists, the socialists, the populists (narodniki), and – most importantly – the Slavophiles. The Slavophiles looked at the state of Russia in the 1830s and considered the Petrine reforms to be an unmitigated failure: they had not kept Russia at pace with the rest of Europe; they had dislocated the cultural and social elites from the people over whom they ruled; and worst of all, they had severed the Russian people from their own past. Peter the Great had made the mistake of proto-enlightenment liberalism, that there were universal standards of humanity against which peoples' behaviours, cultures and laws could be judged, and in doing so, he had not attempted to "reform" Russia's venerable history, but deny its very existence, and begin from scratch.

Instead, the Slavophiles urged a return to pre-Petrine, Muscovite-style Russianism, an embracing of folk styles, food, clothing, language, and so on – not to petrify them into a living museum of nostalgia, but to rectify the mistakes of the previous century, and offer an alternative direction into the future. This precipitated many of the following century's movements: for instance, the emphasis on the folk of Russia encouraged the nascent populism into radicalism; the embracing of the Russian commune form of land management gave Russian socialism a concrete model from which to work; and the idea of Russia taking an entirely unique path of development to Europe created the intellectual condition for Lenin and the communists to believe Russia could "leapfrog" past the bourgeois liberalism of the continent and move straight to socialism. This is not to say the Slavophiles were socialists – to even say so is to misunderstand the subtle relativism that denies such universalist theories in itself. Indeed, many Slavophiles were ardent absolute monarchists, with the famous Memorandum to the Tsar by Alexei Aksakov in 1831 claiming that Russia's unique place in history stems from its Orthodox Christianity, the invitation by the Kievan Rus to the Varangians to rule them, and the steppes shaping the Russian mindset to one of boundless opportunism (something that Berdayev later used as a comparison to the American prairies and Manifest Destiny).

The consequences of the Slavophile movement might not be palatable, but their inspiration is something that Anglo conservatives need to pay attention to. Their movement began by an important moment of clarity: the political reforming project of the previous age had failed. It is no secret that the emerging conservatism in Britain despises the Blairite consensus, and in many ways that means we are already doing as the Slavophiles did: only by recognising that we are in Blairite Britain can we undo its disastrous effects. But we need to go further; we cannot simply throw our hands up and accept Blairism as the present condition of Britain, but we need to see it for what it truly is. It is a complete and utter separation of Britain from our past, a denial of that past's validity, and an attempt to create a new political identity on entirely alien lines.

Moving into the future requires acceptance of the present circumstance; one of the silliest phrases is that the clock cannot be wound back, when the truth is, if the clock is showing the wrong time, it is imperative that you wind it back. And just as taking the wrong turn and continuing down the wrong path will only get you further from where you want to go, so too must you turn back. We are all Blairites now; and just as alcoholics have to admit they'll never recover from their alcoholism, we have to admit we will likely never recover from Blairism, but will always "be" recovering.

But I do not want to be defeatist; the first step of recovery is acceptance. We need to accept that we live in Blairite Britain, and only then can we begin tearing it apart. We need to start ripping out its core parts: the communications act (2003); the equality act (2010); the Supreme Court; the devolved assemblies; the abolition of the hereditary aristocracy; the fox hunting ban; the smoking ban; in short, all of the components of a foreign way of life that have been foisted upon the British people by our own misguided maniacal reformers. It is time to go to war; but you can only do that if you accept the war is already going on.

---