Britain is in decline. This much is true. Nobody would dare suggest otherwise – unless, of course, they wish to attest to pure ignorance or twisted glee.
Given this, we are very much in need of sweeping reform. Yet reform is not the product of drawn-out pontification. Ultimately, it is the sum of action: action moulded by proposition.
As such, dear reader, allow me to do just that. May I present to you: A Sensible Proposal.
Shrink the cabinet to its 5 or 6 most capable members, empower ministers to fire civil servants at will, and slash the civil service by at least 75% – it's not technically Moldbuggian RAGE (Retire All Government Employees), but it's of the same spirit.
Take the Civil Service Code and throw it on the regulatory bonfire, along with every obstructive procurement rule preventing us from becoming the AI capital of Europe.
Implement mandatory IQ tests for all new civil service hires and scrap the counter-intuitive stakeholder model of policy-making; ensuring government bureaucrats literally, not figuratively, live in The Real World.
Double the length of every sentence, especially for crimes which make civilised society impossible (murder, rape, theft, schmonking weed, etc.). Freedom, if nothing else, should mean the ability to go from A to B without being mugged, molested, or murdered.
Repeat offenders should receive at least one of the following: an extended sentence, a life sentence, chemical castration, or the death penalty. Tough on Crime, Tough on The Causes of Crime.
Abolish the Communication Act and its statutory predecessors to make speech free again. The less time the plod can spend harassing you for tweeting facts and logic, the more time they'll dedicate to brutalising groomers of our nation's children, vandals of our nation's heritage, and abusers of animals.
Furthermore, abolish the Supreme Court and bring back the Law Lords – Tony Blair and Gordon Brown, eat your precious 'modernising' hearts out!
Speaking of which, if we can hand out titles to cronies, half-wits, and dodgy sorts, I'm sure we can take them away – put some actual aristocrats in Parliament; of spirit in the Commons and of blood in the Lords.
Abolish the TV licence fee and replace it with nothing. That or broadcast stuff worth watching – like reruns of Kenneth Clark's Civilisation series or Spy x Family.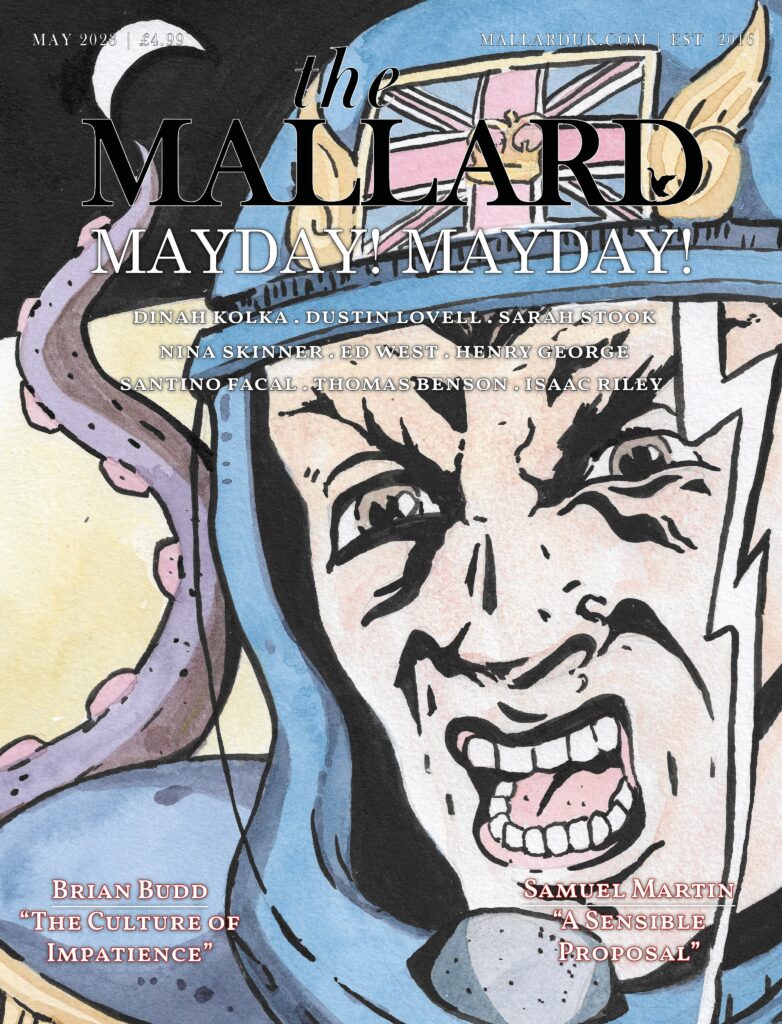 This is an excerpt from "Mayday! Mayday!". To continue reading, visit The Mallard's Shopify.
---