Sam: A common criticism I hear from people on our side of the 'cultural divide', regarding Vorticists and Futurists, is that the avant-garde, as a concept, is antiquated. Do you think that's true, or do you think people are being a bit too pessimistic about its potential?
Fen: Being pessimistic and cynical is something inherent to people who are more on the conservative spectrum, but I think that one must look back to go forward; you can clasp at the fire and the energy of a certain group or a certain movement, and then you can run forward with that. I don't think it's a case of saying, you look back at them and stay there.
I think that it's going to take time, movements, and art styles to take a while to mature and find a new way. I don't at all believe that we simply just have to take on what they do and just reside there.

Sam: In other words: "it's not worship of the ashes, it's the preservation of the fire."
Fen: Yes, absolutely. I think what's important is that if you are going to throw this forward – I mean, the futurists were, for example, very excited by the motorcar and the aeroplane and flight, because that was the period that they were in.
I don't think we need to be excited by the aeroplane in the material sense. However, I think we can be excited about something. That visionary and Faustian spirit is deeply ingrained within our European psyche. I think we get excited about going on and going forward. I don't think it's a case of simply just regurgitating the platitudes or what they were doing. It's about finding a place for that energy now.
It's really about energy and celebrating force over death and decay; the latter of these is what the current regime works on. It's the cult of the victim. This is not glorious stuff. This is not about going upwards towards something higher: this is about keeping you on the lowest level. For me, that is not how life is, that's not how nature is: it is a lie. It's not a culture that has any sort of fire in the belly. It doesn't make you want to live.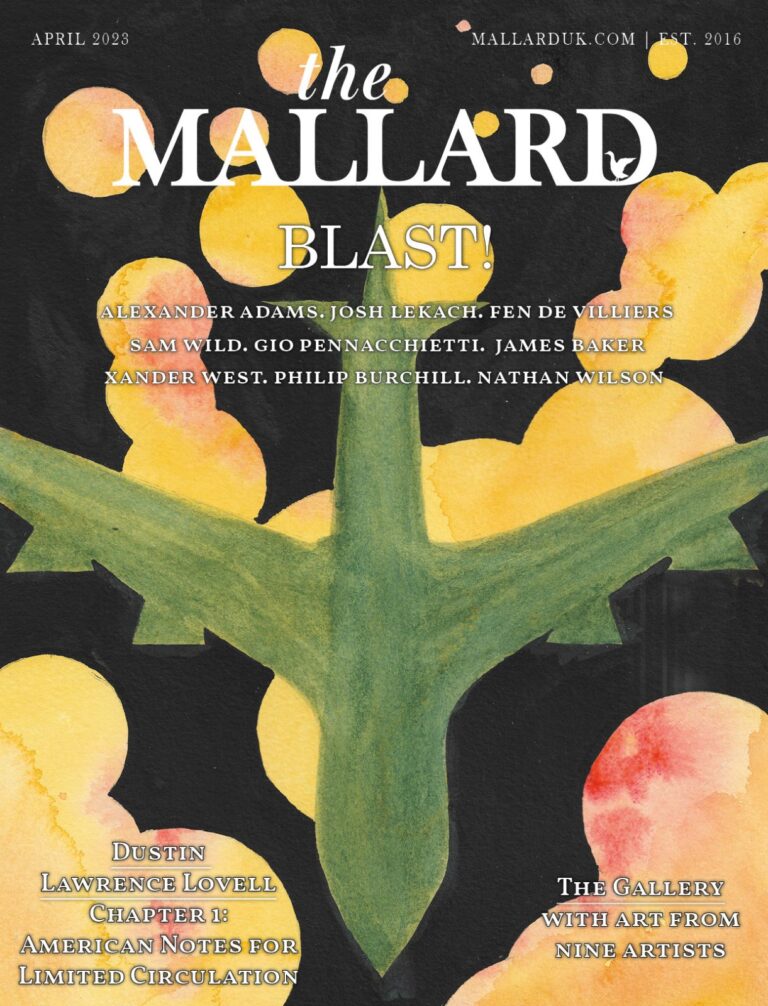 This is an excerpt from "Blast!". To continue reading, visit The Mallard's Shopify.
---
Photo Credit: Fen de Villiers
You Might also like
The scene in The Patriot where Mel Gibson rides across the early dawn horizon bearing the Betsy Ross flag has always stirred a latent fervour in me. I never felt the same patriotic twitch looking at the modern, 50 star flag. That flag flies in front of government buildings of a state that no longer stands for me.

In the Covid-era, we experienced a de facto coup of long brewing forces of tyranny. As we enter its aftermath, a true and full-hearted Americanism is the supreme counter culture. It is easy and tempting in times of such horrendous decay to see America as a corrupt empire, but behind its aggressive export of proto-Luciferian global progressivism is a nation of forgotten men with a great lust for life.

The true America is a nation of explorers. Exploration is the zenith of vibrant and vital youth. Curiosity and drive for mastery of self and surroundings bred a stock of men seeking God, wisdom and adventure. As the 50 star banner and the government it represents becomes more hostile to these values and the men who inspired them, I submit that our countercultural Americanism should rally behind the banner of a man who embodied our spirit with great zeal – John C. Frémont.

The Frémont flag looks much like the traditional American flag. In the place of stars, the blue field seats an eagle holding an olive branch in one claw and a fistful of arrows in the other. Frémont carried it on his expeditions so as not to provoke war in Indian territory while identifying himself as an American. The symbolism was clear; you can have peace or war with America, but regardless of your choice, it will be on our terms.

To be entirely honest, that message is one for another time, in which our Republic was very different. The intended meaning of the flag is less interesting than its namesake. John Frémont was one of the greatest Americans to ever live, and an exemplar of the spirit we must thrust upon this modern age. Frankly, it doesn't hurt that it looks cool as hell.

An explorer, commander and politician, Frémont was born with nothing and never accepted a fatalistic life of destitution. He gained marginal status as a military officer and brilliant mathematician. After courting the daughter of politician Thomas Hart Benton, he was pushed away by the senator for his low status. Indignant, the young Frémont ran away with his beloved and eloped.

The senator's outrage subsided in time and he sponsored the young couple's expeditions into the untamed west. Frémont would lead five major expeditions, plant the American flag on the peaks of the Rockies, create maps and literature illuminating the romantic wonder of our frontier and inspire thousands to brave the Oregon Trail and settle new territory.

Frémont's adventures as an explorer were put on pause by the Mexican-American War. The adventurer commanded the conquest of California and was appointed the military governor. He was such a beloved leader that when he was displaced as governor, he staged a mutiny with the fervent support of his regiment. He was court-martialed for the rebellion and stripped of rank. In recognition for his indispensable service in the conquest of the west, he was granted a presidential pardon.

The adventurer's spirit was never broken. After the Mexican-American War he would find himself commanding new armies, governing new territories and taking on several other new ventures. While he died destitute, he fought at every point to thrust his vision upon the world. He was unwavering with power that was granted to him and he never ceased to chase adventure. The circumstances of his birth were never allowed to be a limiting factor in his drive for an unbridled and wildly whole life. He never pitied himself nor despaired of his misgivings, he was ever relentlessly free.

Frémont was a child born in sin. His mother, seed of the southern gentry, was arranged at the age of sixteen to be married to a wealthy landowner in his late sixties. She began an affair with her tutor, an educated man of French extraction. They conceived John and ran away together, living in poverty. Frémont was born of passion. A forbidden passion, the very nature of his conception was filled with that fiery force of life that possesses us in moments of ecstasy. His birth was by the work of Eros and it baptised him with a great fire and zeal for life that he carried through him into his final days.

This fire of passionate, ecstatic life is inseparable from the American spirit. We are of the great stock of the mighty Englishmen who created an empire upon which the sun never set – though we are a branch of that family filtered by possessing the daring to board wooden ships and cross the most treacherous of oceans, to a land of hostile natives and untamed lands. We arrived upon a continent with nothing but what we could carry and we made it our own. Nothing we have achieved would have been possible without this fiery spirit of passion for life! Frémont is among the greatest of Americans and a symbol of the American spirit manifest in its most uncompromising, violent and arrogant excellence. Under his banner, I see an America made new, cleansed by its own zealous, willful, vicious, wholly alive spirit.

Let us rally behind Frémont's banner. It is now our time to embrace a heroic spirit of adventure, to be unwavering in our use of power. In times of national crisis, we cannot bind ourselves to convention. The great men of our era must be unforgiving and wield the power that they can acquire with absolute strength. The system is against you. You will face setbacks, perhaps situating you at square one. Embrace the spirit of adventure, and wander on.

---

Roland Barthes' essay Death of the Author is required reading for many students who wish to study the humanities, such as English Literature. The general thesis of the essay is that narrative intent from the author cannot be discovered as it is impossible to know what the author's thoughts were at the time of writing. Thus, Death of the Author can be understood to mean "art without the artist" – by the reader is the only true reading. The authority of the author, and therefore the author himself, perishes.

It is an interesting and incredibly influential essay that has played a large part in the development of critical theory over the course of the 20th century. Using this as a basis, it is my belief that we can take the theory further.

Rather than experience the art in a passive way, accepting what the author produces as is, and making our own interpretations from that point, I propose that we instead take an active participation in taking art from the artist and use it to our own ends. This is much easier to do thanks to the internet, and the emergence of meme culture.

It is from meme culture that murdering the author rises. 2016 can be seen as the black swan moment for this with the election of Donald Trump and the reignition of right-wing populism. In this moment, a new breed of meme was born, and it is one of these memes that I think best exemplifies how effective murdering the author can be.

In 2017 MGMT released their song "Little Dark Age", a protest song lamenting the election of Trump. As the title suggests, the zeitgeist as the artist saw it was regressing back into a period of ignorance, ultimately taking the past 70 years of Progress with it. As recent as 2021 however, the meme remixes of this song have become increasingly popular. The song is used as a backdrop over footage designed to ignite reactionary pride – praise of Christianity and the heroic spirit are commonplace within this. My personal favourites are the ones that glorify the British Empire.

The popularity of the meme is an example of the remix culture unique to the internet, an issue with 21st century creations in general. 21st century art is stunted, and we can only find creative outlets in what has come before. This is a problem with all art and culture in the West, but has been commented on before so I will not belabour the point, except to say that our obsession with nostalgia seems to have left us bereft of creating our own cultural milieu and we are forced to stand blindly on the shoulders of giants.

We are indeed in a little dark age, and MGMT clearly felt that. It just isn't the dark age they think it is. For a generation of people brought up in countries whose hour of greatness was over, and on whom all the world's ills could be blamed, it is little surprise that a song like Little Dark Age could be used in the way it did. With lyrics like "Forgiving who you are for what you stand to gain/Just know that if you hide it doesn't go away", the song seems to be calling out to those who are trodden on by the current regime, such as political dissidents, delivering the Evolian message of riding the tiger. In the remix culture that epitomises internet trends, this is an example of destroying the meaning of a talented, well intended but misinformed artist and rewiring it for a different purpose.

No matter how MGMT feels about the current political and cultural climate, the fact remains that Little Dark Age is reactionary. It speaks of cultural degradation, inauthenticity – the sense of something being lost. MGMT have put their finger on the pulse, and their diagnosis seems apt – but the wrong patient has died.

Their anger is correct but misdirected, which is why we on the right see the song as something to be hijacked. We are not witnessing the death of the author here – instead, we are the author's murderers. We are Lenin storming the Tsar's palace in 1917. We take what is theirs and subvert it to our own ends.

The fact is that reactionary media, be it music, film, literature or television, is entirely hegemonic to the left's favour. Reactionary discourse is repeatedly shut out of the Overton window, which is panned by boomeresque false idols on one side and comical Marxist villains on the other. In order to make a point, we must use the tools of the enemy. We must be the Vietcong stealing M16s from a US military base. We take from the author what is theirs, deconstruct their arms and create something entirely new using the skeleton of their works.

We are the murderers of the author and this is our strongest weapon.

---

Contender for the Conservative Party leadership and Prime Minister, Rishi Sunak, has declared that he would widen the scope of our PREVENT programme to include those with "anti-British" attitudes. He didn't bother to define those attitudes but no doubt they include equality, diversity and inclusion to the extent that I will be sent to the Sensitivity Hub in the Leveled Up North for saying I don't think young girls should cut their breasts off and that a wider cuisine base is the price worth paying for a million immigrant.

British values have had to be invented in the 21st century because they never existed. I'm sorry, but it's true – otherwise David Cameron wouldn't have had to try so hard to either define them or legislate for their respect. I still remember that cringe Google advert from circa 2014 that asked "what are British values" and delighted in showing us a picture of two men wearing kilts getting married. But culture, like air, is only felt in its absence. What's worse, the definitions that have been foisted upon us of "British values" are only British in the sense that they can be found in Britain, but they are not uniquely British. Is it wrong to say that most of Europe respects the values of "equality, diversity and inclusion"?

Diversity built Britain, claims a fifty pence piece with a smug Rishi Sunak behind it. This is only true if you buy the Blairite lie that Britain was born in 1997 and actively chose to depart from its millennium-long history thereafter. Yet, these invented values are clearly not powerful enough to inspire the one thing that keeps a country together – loyalty. The chairman of this publication asked the question "what is a nation if it cannot inspire loyalty?" but neglected to interrogate the cultural dimension of that question, focusing on the legal questions of identity. This is like describing a human in terms of their body only, and making no distinction between living or dead bodies; a body needs a soul to be a person. If you don't believe me, try and sit in the presence of the corpse of someone you know.

It does not have to be this way; and, when you climb out of the political rabbit hole built for us, you realise it actually is not this way. "Britain" is stamped across everything and pushed into your face at every opportunity – and I'll tell you what Britishness is shortly. Instead, there is a richer dust beneath that impoverished earth that can be found, if only you look for it: Englishness.

The left fears Englishness because it is real. It does not fear Englishness because it does what the left wants to do, and better – it does not offer "an inclusive and diverse" society – but they fear it because it inspires so much loyalty and with so much ease. And as with oxygen, you only find it when you've been denied it for so long; but this actually makes finding it easier since we are so starved of it already. You can find it in a country pub, at a church fête, at a garden party, at a Christmas church service, in the architecture of Buckingham palace, in the music of Herder and Elgar, in the tailors of Saville Row – in short, in all the places you would not find anywhere else in the world. You don't find it in a cup of tea, or in a queue, or the other twee nonsense that is so important to the 21st century project of multiculturalism.

You have to find these things, though. They are hidden, and consciously so – otherwise they threaten the damp, empty and meaningless focus of loyalty you're supposed to feel, "British". And Englishness threatens Britishness because it's so much more powerful. I don't blame the SNP or Plaid Cymru or Sinn Fein for being so successful. I blame our gutless, cowardly elites.

It wasn't always like this. Britain and "Britishness" was only ever a legal identity supported by an English hegemony. There's a reason that, for so long, writers would use the words interchangeably – it's because they were. Englishness was unique and different to Scottishness (Welshness doesn't exist), and quite clearly the animating spirit, the soul of Britishness. Scottish and Irish people might complain today that their culture was "erased" by the British state under an English hegemony, but to the victor, the spoils. England and Scotland had the same population sizes for centuries, and went to war so very often, it's hardly surprising that one of them would eventually triumph.

English people were aware of this. It's no surprise that Enoch Powell spoke about this – typically eloquently and with deeper understanding than any living politician – and urged that "Britain" concede its diminished place in the world, surrendering the Empire (and its step-child, the Commonwealth), instead accepting that England is the only real entity worth loyalty. Powell thought that clinging on to a vaguely defined "Britain" at a time when her seapower was basically gone, the massive waves of immigration were becoming the norm, and the European Economic Community was expanding, meant the hegemonic English identity would be turned in on itself, swallowed up, and hollowed out by the desire to make "Britain" as palatable as possible. As with everything else, on this issue Time has proved to be Enoch's greatest ally, to the extent that David Lammy – who has no cultural or ethnic connection to Englishness – can call himself English. The only reason he can, is because Englishness and Britishness are still mistaken for one another. We have made the mistake of letting an English hegemony be captured by those who hate England.

But this hegemony is almost dead: whilst the last bits of "Englishness" that have dominated "Britishness" are swallowed up, it became the project of the Left in the post-Thatcher years to become even more aggressive in simultaneously undoing that hegemony whilst also turning it in on itself. That first part, of undoing this hegemony, was fuelled by Leftist desires for "equality" between Scotland and Wales, and England, and the farcical idea of Britain as a "nation of nations", culminating in the devolution programmes that created the fake nation of Wales (still a principality of England, really) and threw the rabid dog of Scotland a steak as if that would satisfy its hunger. You don't feed the strays.

Peter Hitchens' Abolition of Britain catalogues that second arm of the Leftists strategy, of taking the 'kind and gentle' civilisation of Britain and weaponising it against the England upon which it was built. Another article published by the Mallard, written by Eino Rantanen, put this point well – "British friendliness has created not only complacency, but rather powerlessness in the face of people and ideologies that have no qualms asserting themselves, often violently".

One violent ideology of this kind is the hated enemy of Blairism. Blairism was the final legal victory of the Leftist assault on English hegemony: again, the Blairite elements of the British state have been rightly identified before, but I will list them for the sake of explaining my point: the Supreme Court (which is a nonsense name, the Monarch in Parliament is still supreme); devolution, as I say above; the eradication of our educational heritage by devaluing university; and so on.

But, this publication has made it its job to be more optimistic, or so I'm told. The situation may look bleak, and I doubt I've helped, and this next point might make me sound even more blackpilled: the British project is nearly exhausted. The values that had to be invented in the sundering of the English hegemony of Britain were a sort of proto-globalism – that triumvirate of mediocrity, "equality, diversity and inclusion" have proven to be as empty as the French Revolution's "liberte, egalite et fraternite" – but some kind of pseudo-cultural identity was needed to keep Britain going. In a way, the Left has dug its own grave, because it took away the only real substance that gave Britain an identity, and replaced it with a set of contradictory inventions.

And you can see this new public culture everywhere. Indeed, it is stamped across everything, in such a way that you cannot avoid it: for example, despite the fact that June has (somehow, unquestioningly) become "pride month", there are still "pride parades" everywhere and all the time, and in such public spaces that you need to actively try to avoid them – an inconvenience that they are counting on, of course. And "pride parades" are not even about being gay anymore, or LGBT, or whatever, they're just an excuse to get drunk and be promiscuous in the street, and you can take part – provided you wear the dress and make up and face paint necessary to mark you out as "one of us", whoever the "us" is.

Contrast this, quite literally, with the fact that Eid is celebrated by thousands of Muslims on the streets of London, a religion that is less tolerant of homosexuality than Christianity. And again, you don't even really need to be Muslim to take part in the celebration of Eid. The fact that these contrasting belief systems are publicly supported and worshipped is the sign of the absence of a communal identity, not its existence; deep and contradictory belief systems cannot be present in the same collective identity. It is just proof that different collectives live in the same space now; and the simultaneous celebration and sublimation of each is the only way their contradiction can be held in check. In the same way that Patrick Deneen wrote in Why Liberalism Failed that the expansion of atomistic individualism required a stronger state, so too does multiculturalism (another invented British "value").

Then there's the fact that every advert – every advert – is full of black people (or, if you want to see intersectional London's one-step-further form of this, spot the Tube advert with an interracial lesbian couple in which both are wearing face masks). To such an extent that British people think the British population is 20% black (it's 3%, by the way); and never mind the fact that black people are not Britian's biggest ethnic minority, we now have a "Black history month", apparently. You would be forgiven for thinking we lived in America – but maybe that's the point.

Where is the room for Englishness in all of this? That's just the point: there isn't any, and by design. The desire to strip the England out of Britain by the Left meant that Englishness has to be sublimated in order to for "Britishness" to be viable. But here is the optimistic point of this article: the twin facts that the British project is fraying, and that English culture has to be suppressed, points to a single, irresistible conclusion. Englishness is both too powerful for the new British "identity" to counter, and that it is ripe for rediscovery.

The final point here is that, the word "rediscovery" is intentional – Englishness has to be found, partly because it is so smothered by that new British pseudo-culture I lay out above, but also because real culture is physical and tangible. You can find English culture hiding in an Anglican church, in a garden party, in the squat village pubs – basically, in all the places that are unique to England and around which a recognisable pattern of behaviour has been built. Englishness can be found once again – you just need to look for it.

---