In the last magazine, I outlined a Sensible Proposal for reforming the British state. It wasn't exhaustive, but the meat and potatoes were there. In the proposal, I briefly mentioned the need to do exactly this. I suggested the BBC, if it wants to be spared abolition, should broadcast stuff worth watching – programs that will elevate, rather than demoralise, our great nation.
Specifically, I proposed broadcasting Spy x Family to the masses.
Far from being tongue-in-cheek, I sincerely believe that such a policy – and similar policies – would be excellent reforms for any government to implement.
For the uninformed, Spy x Family is a Japanese manga series created by Tatsuya Endo in 2019. The story follows a spy (Loid Forger, codename: Twilight) who has to "build a family" to execute a top secret mission. Unbeknownst to him, the girl he adopts as his daughter (Anya Forger) is a telepath, and the woman he agrees to be in a marriage with (Yor Forger, née Briar) is a skilled assassin.
As of March 2023, Spy x Family has over 30 million copies in circulation, making it one of the best-selling manga series in history. On April 9th 2022, the Spy x Family anime was released. Like the manga, its popularity was instantaneous, obtaining around 7 millions views on its inaugural episode – an immense success for a new show.
Appealing across and within various demographics, topping the charts as Japan's favourite anime of 2022, it has cultivated an eager international fanbase. Consisting of 25 episodes, a second season will premiere this year, as well as an anime film.
That said, whilst the media success of Spy x Family is there for all to see, little is said about its impact on Japanese society. Nine months after the show's debut, Japan's fertility rate experienced an uptick after consecutive years of stagnation and decline.
Sure, it was a very small uptick and Japan's fertility rate remains far below the point of replacement. In all technicality, Japan's continues to worsen, just at a less severe rate. Nevertheless, in less than a year, Japan has gone from another stereotypically infertile state to the most fertile nation in the Far East.
Coincidence? I think not!
As a matter of fact, one of the most common reasons for remaining childless, often surpassing financial concerns, is the presumption that having children will deplete one's quality of life.
Considering how bad things are becoming in Britain, one would require a pretty pessimistic idea of what family entails. Indeed, when you realise what people think of when they hear the word "family", it's easy to see why.
At the beginning of the last century, positive portrayals of family life were hegemonic; portrayals that contrasted a more nuanced reality: family life was often less-than-picturesque. Consequently, more cynical (or realistic, depending on your exact stance) portrayals of the family became more commonplace.
I invite you to look at literally any TV show made over the past 30 years. Families are almost always portrayed as rowdy prisons, children are portrayed as nasty parasites, and divorce is portrayed as blissful liberation.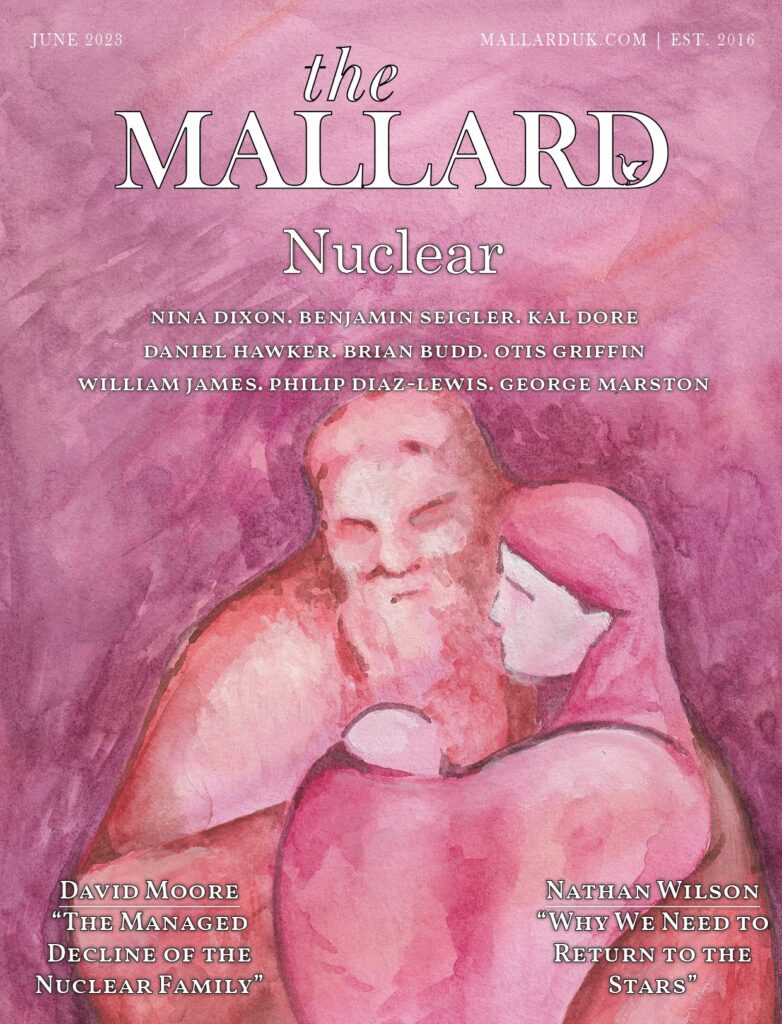 This is an excerpt from "Nuclear".
To continue reading, visit The Mallard's Shopify.
---