The 2022 midterms should have been a bloodbath. It should have been a huge sweep for the Republicans, relegating the Democrats to the depths of minority rule. Instead, the Republicans managed to win the House only respectably, whilst the Dems kept the house. It's widely believed that better candidates could have kept the house.
Good candidates do exist. Ron DeSantis managed to make gains in Florida. Glenn Youngkin flipped Virginia. Brian Kemp safely won re-election in Georgia. Unfortunately, there were also many poor candidates. A competent Republican could have beaten John Fetterman in Pennsylvania. Somebody else could have beaten Katie Hobbs.
The same is true for Presidential elections. The Republicans have only won one election in the 21st century outright, with both the Electoral College and popular vote – George W. Bush in 2004. 2000 and 2016 both saw Electoral College wins but popular vote losses. Whilst external events came into play, it's not a great look.
That being said, it almost seems that the Republicans like losing. They're not making any real attempt at winning. Whilst they might choose decent candidates, there's a high chance they won't.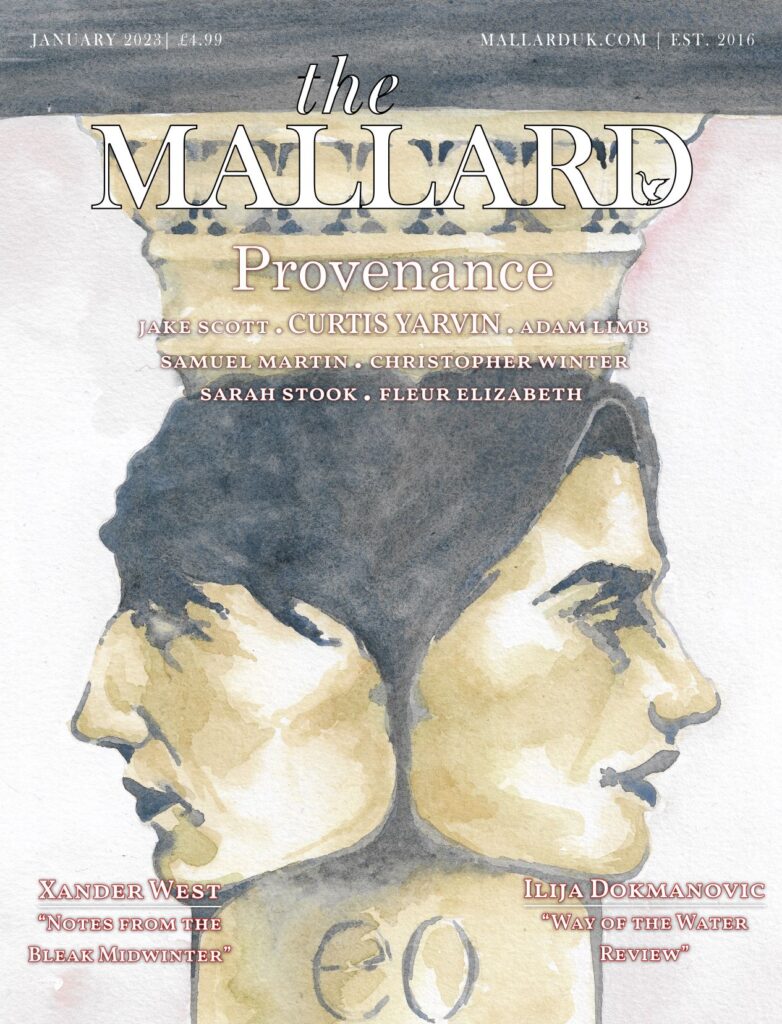 This is an excerpt from "Provenance". To continue reading, visit The Mallard's Shopify.
---
You Might also like
When the Humber Bridge was completed in 1981, it was the longest single span suspension bridge in the world. 41 years later, it has been reduced to a mere 11th place. The current longest single span suspension bridge in the world, the Akashi Kaikyo bridge in Japan, stands a mere 500 metres longer. This is an unfathomable disgrace for the people of Great Britain and is, quite frankly, a national tragedy and embarrassment. To add to this disgrace, another bridge, the 'Çanakkale 1915 Bridge' will soon be completed in Turkey. It will kick the Akashi Kaikyo bridge from its number one spot, and move the Humber Bridge to a measly 12th place.

Therefore, for my submission to The Mallard's project 22, I would like to make a simple but resoundingly important proposal: build a second Humber Bridge (Humber Bridge 2 some would say) and make it precisely one metre longer than the Çanakkale 1915 Bridge, therefore reclaiming Britain's rightful place in the world as the country with the world's longest single span suspension bridge.

This proposal is likely to ruffle some feathers internationally, and I imagine our friends in the East would be quick to try and build another, even longer single span suspension bridge somewhere else. The solution to this possible outrage is, of course, simple: Build a third Humber Bridge.

These proposed projects have a myriad of benefits that I am sure are obvious. I will however go over them in an attempt to convert the non-believers. Not only will these projects drastically increase the infrastructure of the East Riding of Yorkshire and Northern L*ncolnshire, they will also bring desperately needed construction work and employment to an otherwise overlooked region. The construction of perhaps five or six Humber Bridges over the next 50 years would create literally thousands of jobs for engineers, technicians, builders, and labourers.

Coming in with an estimated price tag at just over £2 billion each, I am sure you can see that these bridges would be an absolute steal for the price!

I know what you're thinking 'He can't be serious! This is a joke right?'. No, I am being very serious. As the nation which invented the bridge, I think it is perfectly reasonable that Great Britain goes to great lengths to have the longest one in the world, the lack of one is wounding to our pride. If you do not support the construction of perhaps eight or nine more Humber Bridges in our lifetime, not only are you a coward, but I can only assume that you are also working in favour of foreign governments, which makes you a traitor, and I'll be damned if I'm going to sit here and be lectured by some fifth columnist.

---

Ignore the snarky joylessness of self-important losers and the performative perplexing of Very Serious Political Commentators, the past few days have been hilarious. Brought down by inadvertent kamikaze molester "Pincher by name, Pincher by nature" Chris Pincher, appointed to be (you couldn't write this) a party whip, amounts to more than another Gay Tory Predator scandal. Instead, we are finally witnessing the end of Johnson's inert and wasteful premiership.

Here I was thinking we'd be dealt an anti-climactic resignation over a piddly piss-up. All those times half-wit pundits, with their mundane alcoholism, lapsed anuses and hyperlinked relatives on Wikipedia, insisted that "it's over" for Boris, only for such prospects to be dashed when a big fat *nothing happens*, effectively wore down the belief that Johnson could be removed at all.

However, just as a monkey could write Shakespeare if given enough attempts, journalists occasionally conjure the ability to publish something with a kernel of veracity, in this case – the government is imploding because Johnson feigned ignorance of Pincher's pinching.

As funny as it is to see Boris' top guys do a 180 in less than 24 hours, contrasted to the inexhaustible ride-or-die energy of Nadine Dorries, you came here for Insightful Political Commentary; a lucid outline of What is To Be Done, you came here for The Ideas. Very well, ladies and gentlemen. After all, chaos is a ladder.

Like most conservatives, I am torn between my hatred of Johnson and my hatred of full-time Johnson-haters. The former was handed an unconstrained sledgehammer to smash the Blairite machine. Criminally underutilised, it was primarily used for tasks completely incongruent with the telos of a sledgehammer – Building Back Better, Levelling Up, etc.

Adding insult to injury, the constructivist rhetoric was entirely devoid of actual construction. Housing prices continue to climb, the borders are wide open, the tax burden continues to punish the most productive, supply-side solutions to energy problems are practically non-existent, and all 'attempts' at resolving [REDACTED] have mounted to nothing more than superficial lip service to whip up momentary support from disaffected voters. For a man versed in the classics, Boris should know Heraclitus' First Cause – Construction and Destruction were born joined at the hip, the fire which festers within a blacksmith's forge and the fire which springs from a Molotov cocktail are the same force.

In the case of the latter, the full-timers sincerely believe that Boris has made extensive use of his loaned hardware, obliterating Those Ancient British Traditions: the NHS (1946), the HRA (1998), Supreme Court (2005), Britain's membership of the EU (1992), etc. Ironically, had Johnson aspired (never mind achieved) more than a measly fraction of the aforementioned, he would be leading by double-digits.

The derangement of these full-timers makes one wish Johnson had made like Caesar and crossed the Rubicon. If not to pursue a revolutionary agenda, then to amplify the deserved misery of Britain's worst inhabitants; the type of people that Tumblr-format tweets about having integrity in politics – "The Parties, The Lies, The Cheese and Wine, it's DISGUSTING" – as they listen intently to the most recent episode of Alastair Campbell's podcast.

It's old news, but it's worth remembering that Boris is not a conservative. He's a liberal whose self-obsession disrupted what would have been his natural Brexit alignment. He's managed to court support from people who would otherwise not have supported him, knowing full well they have little realistic alternative. A socially liberal chieftain of a socially conservative tribe, a Globalist commander of a nationalist army, Boris' betrayal of both sides of Britain's politico-cultural schism are finally converging, depriving him of what he values the most: popularity. Like Louis XVI awkwardly donning the revolutionary bonnet, Johnson found himself divided between his political inclinations, those of his new compatriots, and his desire to remain popular irrespective of circumstance.

A high-tax, high-immigration, high time-preference, low-wage, low-cohesion, low-growth Britain with a political life routinely interspersed by the misdeeds of a Prime Minister that backstabs his own supporters and elevates pillow-talk policy over national priorities. Brexit was always more than technical independence from the EU. Sovereignty was never the ultimate end. The Leave coalition was underpinned by the pursuit of sovereignty, but it was the prospect of exercising this sovereignty that brought about the electoral realignment. It was why the Nationalist-Brexiteer majority and the Globalist-Brexiteer minority could co-operate. Not a means to an end, but a means to greater means, and from these greater means a true ultimate end. A half-baked means (see: ECHR), but a necessary means, nonetheless. Even without Brexit, to waste such a supermajority, as a Conservative, should be grounds for life imprisonment.

In case you haven't noticed, I am not outraged at "THE LIES". Expecting politics to be free of lies, noble or otherwise, is like expecting the sea to be free of fish. It's that a national revolution, literally decades in the making, has been squandered by a fat, self-absorbed, Etonian mutt that cares more about getting cummies from mid women and supporting The Current Thing like the insufferable libtard he is, rather than using a historic opportunity to liberate his country from institutionally inflicted self-harm; a stranglehold that will certainly be reinforced under a Labour government.

Speaking of Labour, how is the mortician doing? Has he recovered from his divorce yet? If the polls are to be believed, he's doing better than a country with half-serious political system would allow. I do not believe mass reconversions to Labour will occur. The next election will be decided by the magnitude of [c]onservative disaffection.

And what of future Conservative leadership? Oh joy, a choice between Loony Liz and Total War Tom; an accidental hot war with Russia vs an intentional hot war with Russia. Decisions, decisions. Then again, what do you expect when given the option between an ex-Liberal Democrat and a dual-citizen neocon? It all screams "Look at me, I'm a rat that will jump wherever!".

Rishi? The 'Diversity Built Britain' guy? Okay sure, he didn't run cover for Pincher but he's still a dull gremlin with a non-dom wife – not a good look! Besides, he's still "implicated" by "Partygate" – an even worse look! Hunt deserves more contempt than can be articulated by the human tongue. Javid is an NHS fundamentalist. Not only does he worship the NHS, but he also unnecessarily attacks people on Twitter that dare to criticise it. Braverman is a Judas Goat – either she puts up or shuts up. Does anybody have an opinion of either Gove or Zahawi that isn't associated with unnecessary underhandedness?

Mordaunt will be Theresa May 2.0 – the untainted candidate that slides in from the side-lines, garnering popularity from the prospect of some maternal reconciliation. Indeed, thoroughly disgusting prospect. This country can't endure five seconds of political excitement without wailing like an infant. Speaking of Theresa May, she's rumoured to be a potential "caretaker Prime Minister". Does nobody remember her premiership? She embodies this country's infuriating sentimentalism towards mediocre politicians. Furthermore, the timeline will be unbearable. Every sycophantic bint with a "Bloody Difficult Woman" tote bag from 2017 will re-emerge, squawking about the totally-not-astroturfed-and-definitely-politically-attractive notion of Compassionate Conservatism.

For all his faults, at least Boris had some charisma. One suspects people were banking on 2019 to make Parliament a little less boring, replenish it with at least a few interesting people. But no, we got potato sacks.

It is easy to imagine that Johnson will become a Girardian scapegoat for the coming Parliament – an environment defined by his ostracization and anything that can be construed to be representative of his presence (very easy for a man with the track record of an erratic ape). Onto him, all the 'sins' of the past 3 years will be unanimously piled; his resignation will represent an exorcism that alleviates whatever is political convenient for his ex-compatriots and the neurotic full-timers. An insulated circlejerk which will barely disguise an aggressive repositioning against the progressively minded – "if Johnson's premiership was the result of Brexit, then nothing like Brexit can happen again", and so on.

In the end, whatever maximises political randomness may best serve the betrayed. January 6th kino isn't coming to Britain (we're far too boring for something like that), but there's certainly no reason to support the Conservatives at the next election. At this point, democratising the Conservative Party should be on the table. We cannot carry on with a system which consistently produces such terrible representatives – ones which can so easily abuse (literally and figuratively) the party's support base and continuously get away with it.

Brace for the self-righteous gush that will begin to flow courtesy of Johnson's neuron-cranking retardation. The BBC will find another reason to put Ian Hislop on the television and use "Should I Stay or Should I Go" in whatever slapdash documentary comes out of this. Unfunny comedians will tune into radio shows to compare Johnson to their ex-boyfriends. "The 2022 UK Government Crisis Shows the Enduring Problem of White Male Fragility. Discuss." (40 marks).

Enoch Powell said that "all political careers end in failure". On a technical level this is true, but few political careers end with the squandering of a revolution. The boy who wanted to be king was gifted the crown on a velvet cushion and, when placing the crown onto his head, dropped it into the gutter. Here's hoping the crown can be retrieved by someone of kingly calibre and salvage the future that could have been.

---

Merkel, a behemoth of European politics for the last sixteen years, will soon retire from office leaving big shoes to fill – shoes that Olaf Scholz, leader of the Social Democratic Party of Germany (SPD), will find spacious. With the SPD gaining the most electoral votes, it is likely they will be the principal partner in a 'traffic-light' coalition that sees Merkel's Christian Democratic Union (CDU) out of the federal government for the first time since 2005.

With the SPD historically being the party of Turkish-Germans, this critical voter constituency is one that will attract even greater attention. Will Olaf Scholz be able to force himself into the chasm left by Merkel, or will the 'New Sultan' Recep Tayyip Erdogan aim to fill the vacuum left in her wake instead? History suggests that Erdogan is seen as the chief political authority for many Turkish-origin people in Germany and other European nations.

Erdogan has consistently exploited a lack of social cohesion in Germany and Western Europe at large. Aiming to place Turkish-Europeans against their governments; the Nationalist-Islamist rhetoric he purports is incompatible with liberal democratic norms. Indeed, he has managed to foster a Turkish-German identity with himself at the fore. Although there is a great deal of importance attached to Turkish cultural maintenance, it is Erdogan's leverage of faith that ultimately holds the key. Much has been noted of the Turkish-state efforts to consolidate a robust Turkish identity within Germany. This strategy is implemented through entities such as the 'Diyanet İsleri Türk İslam Birligi', an Islamic Turkish Muslim identity organisation that is prevalent in mosques across Germany and espouses Turkish Islamist nationalism. Another organisation of this sort is 'Milli Gorus', which has over 30,000 members in Germany.

It is through these behind-the-scenes organisations that Erdogan further instils his ideological preferences into the Germans he views as his subjects. Erdogan's posturing and denunciation of 'Eurofascism' and 'Nazi' German social policy that he perceives as anti-Turkish, has irked European leaders and riled up Turkish-origin people in the EU alike. He has found most success through deeming European liberal-democratic custom as incompatible with – and often directly inflammatory towards – the Muslim faith. Perceived rampant secularism and a lack of state assistance when it comes to Muslim immigrant integration has led to Erdogan labelling Germany as an 'enemy of Turkey'. He has willed on Turkish-Germans to not vote for German political parties, have more children, and crucially, not to culturally assimilate. Through this interference he has succeeded in setting Turkish-Germans against the German state – placing himself as the foremost political figure for many of them.

Erdogan's posturing, along with his work behind the scenes, has had a palpable effect. Polling and statistics have shown ever increasing disillusionment with Germany. Brookings data has shown that Turkish-German attachment to Turkey rose from 40 percent in 2010 to 49 percent in 2015. During this period, attachment to Germany fell from 26 percent to 19 percent. 2018 data from the University of Duisberg-Essen also showed a lack of interest in German politics compared to Turkish politics, among Turkish-origin Germans. This is further echoed by DATA4U survey data from 2020. On a scale of 1-10, 'Turkishness' ranked 8.10 in importance among Turkish-heritage Germans – as opposed to a German identity importance score of just 5.37. It is clear as day that there is an uncomfortable degree of disillusionment amongst Turkish Germans – a form of national detachment that should worry those in Germany who prioritise social cohesion and migrant political incorporation.

2016 Münster University data also shows that 47 percent of Turkish-Germans believe that following the core tenets of Islam are more important than the laws of Germany. This is striking considering the role Islamist rhetoric plays in Erdogan's appeal. Further compounding this, the same 2020 DATA4U survey also showed German political figure favourability. Merkel averaged a rating of 5.32 out of 10, overshadowing the likely incoming Chancellor Olaf Scholz's dismal rating 3.65.

Scholz's low rating indicates a lack of respect for him among Turkish-Germans. With Merkel's exit, the data suggests that more Turkish-Germans will soon pledge their political loyalty to Ankara than Berlin. Unfortunately for Scholz, with the SPD's current coalition plans, his grasp on power is minimal. He will have no choice but to rely on Turkish-German votes. Given this, if Erdogan were to term Scholz an enemy of his diaspora – as he has with other European political leaders – Scholz could find votes swinging against him, with Erdogan seeing the balance of power swinging towards him.

The neo-Ottoman aspirations of the 'New Sultan' could be the solution to economic and political stagnation at home. Just as the Sultans of old looked westward with glee, Erdogan could look to re-establish his hegemony over Anatolia with a push west. Erdogan knows he can threaten social cohesion in European countries such as Germany through his Islamist-nationalist rhetoric which resonates with Turkish-origin people in Europe who feel disconnected from their domestic political institutions. Erdogan has a veritable toolbox of political mischief ready to unpack to exert further influence in Europe and to catalyse anti-authority sentiments in Turkish-origin communities in major European countries.

As the sun sets on Merkel's Germany, Erdogan will see Scholz's accession as a new dawn for pan-Turkish aspirations.

---