Let us ponder that reassertion of artistic conservatism after the First World War for a moment. Some readers might welcome that as they read it, but what if Lewis and the Vorticists were right? What if Victorian aesthetics was an exhausted force by 1914? One only needs to consider how interchangeable the Victorian and Edwardian periods are in popular memory. Another World War and its even greater trauma later, the conservative establishment of the 1950s across British life was utterly brittle. The modern Left then began its grand project of sweeping all of it aside to little resistance from the 1960s onwards. The tired force before the World Wars suffered greatly during its course only to be killed by its ungrateful offspring.
Vorticism opposed the tradition of its time because it indeed was an exhausted one. It did not wish to destroy the world or what was prior, just transfer its energy and vigour from a point of status into bold new expressions of meaning. In their words, "the nearest thing in England to a great traditional French artist, is a great revolutionary English one." Their vision of progress was one of creation over contentment since no force can make the world stop in one exact state of being. Refining one tradition forever is pointless if there are forces hacking away at its foundations. New traditions must develop to prevent the world falling apart under the weight of self-criticism.
Vorticism was an unapologetically ferocious formative stage of a Modernist tradition which has only 'progressed' through incorrect associations with its counterpart on the Left. Given its youth and combativeness, it almost had to court offence from the intensity of the energy it discharged. I think I have conveyed the exciting potential of it to have snatched the course of modernity away from its present trajectory towards rootlessness and oblivion in this overview. The Rebel Art Centre and its comrades were not granted the time to see the movement reach any measure of maturity, nor the time to discern whether it could resonate as intended.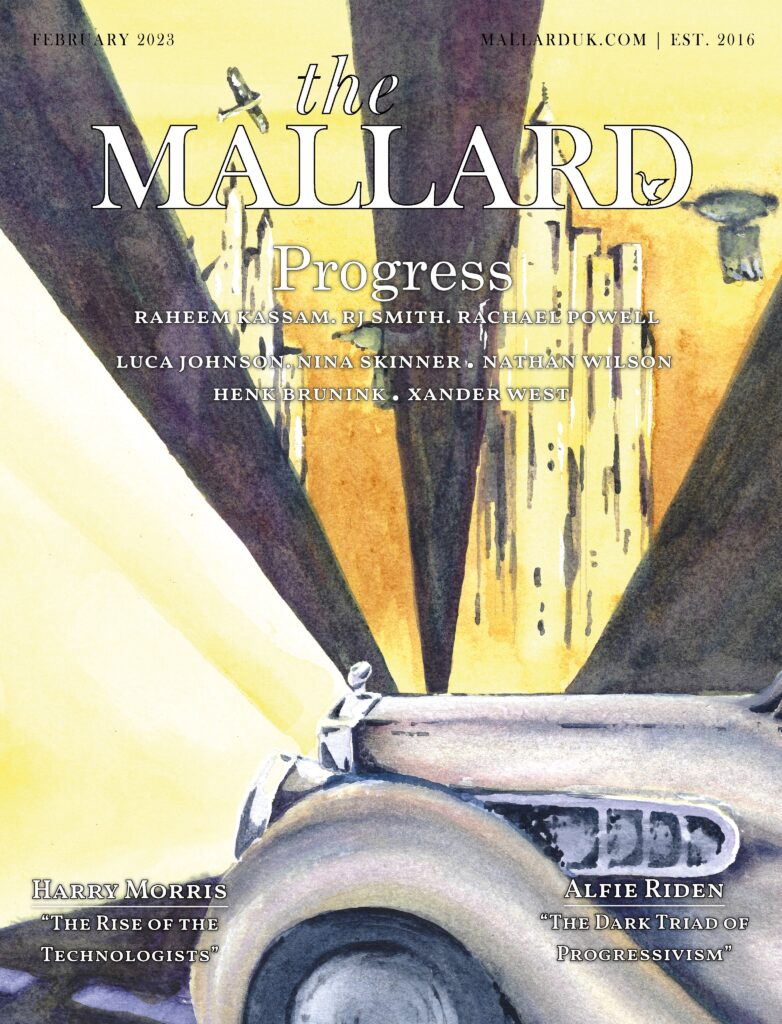 This is an excerpt from "Progress". To continue reading, visit The Mallard's Shopify.
---
You Might also like
Virtually everyone at some point has complained about how their supposedly state-of-the-art phone, tablet, laptop, or computer doesn't seem quite so cutting-edge when it either refuses to work properly or ceases to function entirely after a disappointingly brief period of time. This is not merely the grumblings of aggravated customers, but a consequence of "planned obsolescence." The term dates back to the Great Depression, coined by Bernard London in his 1932 paper Ending the Depression Through Planned Obsolescence, but a practically concise definition comes courtesy of Jeremy Bulow as "the production of goods with uneconomically short useful lives so that customers will have to make repeat purchases." Despite being an acknowledged (and in some cases encouraged) practice, it is still condemned; both Apple and Samsung have faced legal action on multiple occasions for introducing software updates which actively hinder the performance of older devices. In the face of all this, planned obsolescence isn't going anywhere so long as there is technology, nor does anyone expect it to. It is, as death and taxes are, one of the few certainties of life.

As the title of this essay suggests, I do not intend to delve any further into the technological or economic ethics of planned obsolescence. Interesting as they may be, I want to focus on how the concept appears in a political context; more specifically, in liberalism.

One of the core tenets of liberalism is a belief in the "Whig interpretation of history." In his critique of the approach, aptly titled The Whig Interpretation of History, Herbert Butterfield outlined the Whig disposition as being liable to "praise revolutions provided they have been successful, to emphasize certain principles of progress in the past and to produce a story which is the ratification if not the glorification of the present." To boil it down, it is the belief that history is a continuous march of progress, with each successive step freer and more enlightened than the last. A Whiggish liberal is dangerously optimistic in their opinion that history has led to the present being the greatest social, economic, and political circumstances one could hitherto be born into. More dangerous still is their restlessness, for as good as the present may be, it cannot rest on its laurels and must make haste in progressing even further such that the future will be even better. The pinnacle of human development lasts as long as a microwave cooking a spoon, receiving for its valiant effort little other than sparks, fire, and irreparable damage resulting in its subsequent replacement.

The unrepentant Whiggery of the modern world has prompted scholars of the Traditionalist School of philosophy to label it an aberration amongst all other societies, as the first which does not assign any inherent value to, or more accurately, openly detests, perennial wisdom (timeless knowledge passed down through generations) and abstract metaphysical truths. In the words of René Guénon, "the most conspicuous feature of the modern period [is its] need for ceaseless agitation, for unending change, and for ever-increasing speed." Quite literally, nothing is sacred. One of the primary causes of this is that modernity, defined by its liberalism, is materialist, and believes that anything and everything can and should be explained rationally and scientifically within the physical world. The immaterial and the spiritual are disregarded as irrational, outmoded and unjustifiable; it is, as Max Weber says, "disenchanted."

To understand this further, we must consider Plato's conceptions of the two distinct natures of the spiritual and the material/physical world, "being" and "becoming" respectively. Being is constant and axiomatic, characterised by abstract ideas, timeless truths and stability. Becoming on the other hand, as the nature of the physical world, reflects the malleability of its inhabitants and exists in an endless state of flux. Consider your first car, it will alter with time, the bodywork might rust and you may need new parts for it, and indeed it may eventually be handed on to a new owner or even scrapped entirely. Regardless of what changes physically, its first car status can never be separated from it, not even when you no longer own it or it's recycled into a fridge, for it will always hold a metaphysical character on a plane beyond the material.

Julius Evola, another Traditionalist scholar, succinctly defined a Traditional society as one where the "inferior realm" of becoming is subservient to the "superior realm" of being, such that the inherent instability of the former is tempered by orientation to a higher spiritual purpose through deference to the latter. A society of liberalism is unsurprisingly not Traditional, lacking any interest in the principles of being, and is instead an unconstrained force of pure becoming. Perhaps rather than disinterest, we can more accurately characterise the liberal disposition towards being as hostile. After all, it constitutes the "customs" which one of classical liberalism's greatest philosophers, John Stuart Mill, regarded as "despotic" and a "hindrance to human development." Anything which is perennial, traditional, or spiritual is deleterious to the march of progress unless it can either justify its existence within the narrow rubric of liberal rationalism, or abandon its traditional reference points and serve new masters. With this mindset, your first car doesn't represent anything to do with the sense of both liberation and responsibility that comes with being able to transport yourself, it is simply a lump of metal to tide you over until you can get a more expensive lump of metal.

Of course, I do not advocate keeping a car until it falls to pieces, it is simply a metaphor for considering the abstract significance of things which may be obscured by their physical characteristics. In the real world, the stakes are much higher, where we aren't just talking about old cars but long-standing cultural structures, community values and particularisms, and other such social authorities that fall victim to the ravenous hunger of liberal progressivism.

The consequence of this, as with all things telluric, material, or designed by human effort, is impermanence. Without reference to and deliberate denigration of being, ideas, concepts and structures formed within the liberal system have no permanent meaning; they are as fickle as the humans who constructed them. Roger Scruton eloquently surmised this conundrum when lambasting what he called the "religion of Rights", whereby human rights, or indeed any concepts of becoming (without spiritual reference, or to being) are defined by subjective "moral opinions" and "legal precepts." Indeed "if you ask what rights are human or fundamental you get a different answer depending whom you ask." I would further add the proviso of when you ask, as a liberal of any given period appears to their successors as at best outdated or at worst reactionary. Plucking a liberal from 1961, 1981, 2001, and 2021, and sitting them around a table to discuss their beliefs would result in very little agreement. They may concur on non-descript notions of "freedom" and "equality", but they would struggle to find congregate over a common understanding of them.

To surmise, any idea, concept or structure that exists within or is a product of liberalism is innately short-lived, as the ceaseless agitation of becoming necessitates its destruction in order to maintain the pace of the march of progress. But Actual people, regardless of how progressive or rational they claim to be, rarely keep up with this speed. They tend to follow Robert Conquest's first law of politics: "everyone is conservative about what he knows best." People are naturally defensive of the familiar; just as an aging iPhone slows down with time or when there's a new update it can't quite cope with, so too will liberals who fail to adapt to changing circumstances. Sadly for them, the progressive thirst of liberalism requires constant refreshment of eager foot-soldiers if its current flock cannot keep up, unafraid to put down any fallen comrades if they prove a liability, no matter how loyal or consequential they may have once been. Less, as Isaac Newton famously wrote, "standing on the shoulders of giants", more "relentlessly slaying giants and standing on a pile of their fallen corpses", which as far as I'm aware no one would ever outright admit to.

You don't have to look particularly far to find recent examples of this. In the 1960s and 70s, John Cleese pioneered antinomian satire such as Monty Python and Fawlty Towers, specifically mocking religious and British sensibilities. Now, in response to his assertion that cultural and ethnic changes have rendered London "no longer English", he is derided for being stuffy and racist. Indeed, Ken Livingstone, Boris Johnson, and Sadiq Khan, the three progressive men (in their own unique ways) who have served as Mayor of London since its establishment in 2000, lined up on separate occasions to attack Cleese, with Khan suggesting that the comments made him "sound like he's in character as Basil Fawlty." There is certainly a poetic irony in becoming the very thing you once satirised, or perhaps elegiac for the liberals who dug their own graves by tearing down the system, only to become the system and therefore a target of that same abuse at the hands of others.

Another example is George Galloway, a staunch socialist, pro-Palestinian, and unbending opponent of capitalism, war, and Tony Blair. Since 2016 however, he has come under fire from fellow leftists for supporting Brexit (notably, something that was their domain in the halcyon days of Tony Benn, Michael Foot, and Peter Shore) and for attacking woke liberal politics. Other fallen progressives include J. K. Rowling and Germaine Greer, feminists who went "full Karen" by virtue of being TERFs, and Richard Dawkins, one of New Atheism's four horsemen, who was stripped of his Humanist of the Year award for similar anti-Trans sentiments. All of these people are progressives, either of the liberal or socialist variety, the difference matters little, but their fall from grace in the eyes of their fellow progressives demonstrates the inevitable obsolescence innate to their belief system. How long will it be until the fully updated progressives of 2021 are replaced by a newer model?

On a broader scale, we can think of it in terms of generational divides regarding social attitudes, where the boomers and Generation X are often characterised as the conservatives pitted against the liberal millennials and Generation Z. Yet during the childhood of the boomers, the United Nations was established and adopted the Universal Declaration of Human Rights, and when they hit adolescence and early adulthood the sexual revolution had begun, with birth control widespread and both homosexuality and abortion legalised. Generation X culture emerged when all this was fully formed, and rebelled against utopian boomer ideals and values in the shape of punk rock, the New Romantics, and mass consumerism. If the boomers were, and still are, ceaselessly optimistic, Generation X on the other hand are tiringly cynical. This trend predictably continued, millennials rebelled against Generation X and Generation Z rebelled against millennials. All of them had their progressive shibboleths, and all of them were made obsolete by their successors. To a liberal Gen Zer in 2021, it seems unthinkable that will one day be the crusty boomer, but Generation Alpha will no doubt disagree.

Since 2010, Apple's revolutionary iPad has had 21 models, but the current could only look on in awe at the sheer number of different versions of progressive which have been churned out since the age of Enlightenment. As an object, the iPad has no choice in the matter. Tech moves fast, and its creators build it with the full knowledge it will be supplanted as the zenith of Apple's capabilities within two years or less. The progressives on the other hand are inadvertently supportive of their inevitable obsolescence. Just as they were eager not to let the supremacy of their ancestors' ideas linger for too long, lest the insatiable agitation of Whiggery be halted for a moment, their successors hold an identical opinion of them. Their imperfect human sluggishness will leave them consigned to the dustbin of history, piled in with both the traditionalism they so detested as well as the triumphs of liberalism that didn't quite get with the times once they were accepted as given. Like Ozymandias, who stood tall over the domain of his glory, they too are consigned to a slow burial courtesy of the sands of time.

As much as planned obsolescence is a regrettable part of modern technology, so too is it an inescapable component of liberalism. Any idea, concept, or structure can only last for a given time period before it is torn down or has its nature drastically altered beyond recognition to stop it forming into a new despotic custom. Without reference to being, the world and its products are left purely in the hands of mankind. Defined by caprice, "freedom", "equality", or "democracy" can be given just as quickly as they can be taken, with little justification required other than the existing definition requiring amendment. Who decides the new meaning? And what happens to those who defend the existing one? Irrelevant, for one day both will be relics, and so too shall the ones that follow it. What happens when there is no more progress to be made? Impossible to say for certain, but if we are to take example from nature, a tornado once dissipated leaves behind only eerie silence and a trail of destruction, from which the only answer is to rebuild.

---

The Renaissance was a spectacular time for literature, arts, and anatomy. The sheer wealth of geographical expansion reinvigorated Europe and invited it to explore, research, and discover. This period was crucial for the conflict between religion and knowledge, a subject thoroughly explored in Doctor Faustus. The Italian Renaissance especially brought forward many crucial questions about life and death, religion, exploration and other issues.

But this is no longer at the forefront of Renaissance studies. The calls for decolonisation have been sounding for quite a while and it's slowly becoming a subject mainly discussed by right-wing self-proclaimed pseudo-intellectual political commentators. Is it still worth talking about? It might be.

Many students join the English departments armed with an entire collection of Shakespeare's works and a copy of Doctor Faustus, anticipating learning all there is to know about Renaissance in literature.

Well, those students would be sorely disappointed. The loudest calls for decolonisation have been coming from The Globe, the first Shakespearian theatre. On the very front of their website, we can see 'Anti-Racist Shakespeare' in big red letters. When looking at their blog entry from August 2020, a completely innocuous and not totally coincidental date, the quote from Professor Farah Karim-Cooper sheds a lot of light on what's happening with Shakespeare:

As the custodians of Shakespeare's most iconic theatres, we have a responsibility to talk honestly about the period from which he emerged and challenge the racist structures that remain by providing greater access to the works and demonstrating how Shakespeare speaks powerfully to our moment.

This is fascinating, as this then led to many movements to decolonise the literary genius. Universities advise students to listen to a podcast about the importance of 'decolonising Shakespeare' and the first lecture is basically a lesson on why Shakespeare is not universal and must be redefined.

The lecture material encourages students to look out for 'colonial oppression' and invites students to not only decolonise Shakespeare but also the Renaissance. Put your Marlowe in the rubbish, the reading list is now filled with race-related, women-related plays, geared not at looking into the genuine literary wealth of Shakespeare, but at intersectionality. The anti-Semitism in The Merchant of Venice is barely visible under the colossal shadow of the potential 'queerness' within the novel. The patriarchy and the search for something that isn't there take precedence over trying to uncover important truths.

The lecturers may find it laughable that some people oppose decolonisation. They seem to be engaging in strawman 'oh does that mean that we're not going to teach Shakespeare? Of course not!' But that's not the point.

I think that if we're tearing down statues in Bristol and across the US, Shakespeare is potentially one of the cultural statues that could come down

Professor Ayanna Thompson, 'Shakespeare Teachers' Conversation'

If universities endorse the above message, what signal are they sending to their students? Of course, they may laugh trying to explain that it doesn't mean literally tearing down Shakespeare, but the point stands. What they are trying to do is to reconstruct the existing understanding of Shakespeare and re-create it in order to accommodate people who hate them.

Shakespeare was a white Anglo male and lived during the beautiful age of colonial expansion. No one should be worried about saying this one way or another. There's nothing wrong with it either. I personally believe that Doctor Faustus is a far more important novel than 'The Masque of Blackness' by Ben Jonson who wrote quite a dull play about black people searching for the land where they can become white and beautiful.

I understand that this is supposed to make the students uncomfortable and convince them to engage critically with the racism in the past; but don't we all already know this? Isn't it much more productive to focus on the plays that could relate better to contemporary issues? Apparently not.

Midsummer Night's Dream is apparently about patriarchy and The Merchant of Venice is gay. The problem with academia these days is not that there are modules that are ideological; no, the ideology very easily just seeps into everything. There is no way out anymore – most academics are left-wing so naturally their modules will be geared in that direction also. This wouldn't be an issue as this has been happening for aeons. The problem is that this then creates a whole army of impressionable young people whose main focus will be the discussion on intersectionality and race when there is so much more that Shakespeare can offer. The only way to circumvent it is to rediscover the truths that Renaissance literature has to offer. Reject intersectionality and race and embrace tradition.

---

For someone who has anger issues, entering the Audubon's The Birds of America exhibition was like entering a whole new world. Upon the entry, I saw giant screens showing details from Audubon's work and I could hear quiet bird noises in the background. It was an incredibly calming experience, as much as one can consider stuffed birds and plates depicting birds massacring another bird calming. Naturally, this wasn't the centre of the exhibition – it truly celebrated the skill and the creativity of the bird illustrator with a passion for nature.

The exhibition is running in the National Scottish Museum in Edinburgh from the 12th of February to the 8th of May of this year. It displays over 40 plates, each measuring almost one metre in height. Most of them have never actually been shown to the public before. It is split into 4 sections, each of them with its own theme – the first one, 'Meet the Birds of America' introduces the 'world's most expensive book' and Audubon, in general.

John James Audubon was a 19th-century ornithologist and naturalist. He made a point of studying and cataloguing the birds he encountered in their natural habitats. A son of a sugarcane plantation owner and a chambermaid, he must have had a conflicted childhood. Audubon moved to the US to avoid participation in the Napoleonic Wars – and focused on birds instead.

The second section of the exhibition titled 'An Art and a Science' examines the influence of other illustrators on Audubon as well as the scientific, or sometimes quasi-scientific context. With the Industrial Revolution clashing with the Romantic movement, the transcendental search for nature was at its peak. The illustrations at the time were generally quite dull due to drawing from taxidermy and lifeless study skins.

Audubon, however, made a point of painting directly from wildlife, by personally hunting the birds and sometimes getting others to hunt for him. He would then paint the birds he gathered by pinning them into lifelike poses observed in the wild. This resulted in his art being vivid and life-like. He didn't want to paint the taxidermied birds as he felt this would take away their lively spark from them. He was known for sometimes romanticising the birds he saw in the wild, for example when painting the Mocking Bird, in which a rattlesnake attacks birds in a bush, where it would be impossible for a rattlesnake to do so. Audubon would also sometimes add more human behaviours to the birds to allow the audience to relate to the birds. He was sometimes accused of not exactly presenting the truth.

The third part of the exhibition called 'Audubon in Edinburgh' explores the role of Scottish intelligentsia in ensuring that Audubon was embraced by the art society, after his rejection by the scientific community in Philadelphia. He befriended William Home Lizars and started engraving. Edinburgh was central to Audubon's beginnings as a bird illustrator, making it extremely relatable to the Scottish audience, and it became somewhat a privilege to live in the same city where Audubon once found inspiration and was embraced by the art world.

The fourth section called 'The Great Work: The Making of a Masterpiece' deals with technical and artistic achievements. There are short films available for those whose attention span is longer than mine. However, this section also shows the bound edition of Birds of America which is extremely large (100 x 130 cm when open). Audubon insisted that the illustrations would show the birds life-size. Only two paper mills in the UK were capable of printing these, as he used a double elephant folio which is 96 x 66 cm. For those who are capable to rotate shapes in their head, this number will probably mean a lot.

The fifth section 'Naturalist or Showman' focuses on his contribution to discovering new species. Audubon identified 25 new species. This part of the exhibition explores some of the 'controversies', for example, Audubon was known for his strong belief in phrenology, the science which is now deemed 'pseudoscience' by some. Phrenology suggests that one can find details about someone's personality from their skull shape. Seeing what kind of person he was, he probably used phrenology to mock his rivals. He was often accused of plagiarism and scientific fraud due to misidentifying some species and fabricating scientific data. Sometimes he invented new species to impress people who might then buy his work. Reportedly, he even stole the specimen of Harris's hawk from his subscriber to then pretend he never knew him. He also lied in his own autobiography.

The sixth and final section of the exhibition 'Birds of the World' considers the impact of the modern era on the preservation and extinction of many birds. Some, such as the Carolina parakeet is entirely extinct – they used to always flock in large groups which made it easier for the hunters to kill them. They've also been considered a pest by farmers, which contributed to their demise. The exhibition ends on a thoughtful note, advising us to consider the repercussions of human behaviour on the natural world.

This prompted many conversations, such as the possibility to clone the extinct animals using their DNA tissue, however, so far, this was only tried with Pyrenean Ibex in 2003, but this one died not long after from lung defects. It might be a way forward in the future though.

The exhibition was a visual feast for the eyes and the birds are engraved and painted beautifully. The sheer skill of Audubon's art is undeniable, and it trumps any accusations he received. He may not have been rigidly adhering to the scientific advice, but he created something that's still worth looking at. Audubon inspired George Bird Grinnell to create the National Audubon Society in 1905 (although the idea goes back as far as 1895 when the first Audubon Society was created). The organisation protects the birds and their habitats in the Americas. If you like birds, you can donate here.

Audubon's exhibition included a wealth of important items, including some study skins of birds and many taxidermized birds as well as his diaries, plates, and his hunting double-barrelled rifle. The exhibition is beautiful, thoughtful and certainly fascinating. For anyone who craves the return to transcendentalism and ancient values – it's a feast for their eyes. If you fancy a trip to Edinburgh before the end of the exhibition on the 8th of May – make a point of stopping by at the National Scottish Museum to look at some birds, I strongly recommend it.