Culture is often a bearer of such practical wisdom. Indeed, the reason we listen to the experienced and wise, despite their lack of formal education, is that their experience has imparted practical wisdom. Theoretical wisdom is implicit in this down to earth practicality. Although the village elder might not be able to say why a certain behaviour is virtuous, her account, being correct, could be elaborated to reveal a true and natural principle. Extending this to an entire culture, we have one basis for social conservatism. The accumulated experience of ages has a sort of implicit wisdom to it, which can be potentially made into a theory, even though nobody may have yet done so. However, this isn't enough, lest we be agnostic pragmatists like David Hume. For the one clinging to classical ideas, all practical wisdom has a theory behind it whose objective springs we can discover through reason.
One such cultural heirloom that is greatly misunderstood these days is aristocracy. Most cultures in human history have had aristocracies of some type. A noble class existed in ancient Mesopotamia, Persia, Mesoamerica, the Andes, Egypt, China, Japan, Greece, Rome, among the Celts, as well as mediaeval and early modern Europe. Indeed, aristocracy of some type has been one of the most common institutions of humanity across history. Yet in the last three hundred years, aristocracies have shrunk, from the predominant ruling elites of the world to disempowered and mocked cliques, clinging to privileges regarded as archaic.
Britain is one of the few countries that still has an institutional aristocracy. But its influence is ever diminishing, its numbers ever depleting, and its ideals waned to nothing. I doubt many would contradict me if I said its public image is far from positive. I believe the cause of this decline is that it is a remnant of a previous ethical outlook, one rooted in ancient Greek and Roman thought, and Christianised in the Middle Ages. This outlook collapsed in Britain during the eighteenth century (before it did in most of Europe). Whig liberal philosophers like John Locke chipped at its foundations. The aristocracy as a result became an institution without a purpose, embedded in a new society totally hostile to it.
So, what are these foundations? I think three: human goodness as function, a communitarian spirit, and a family-centred life. Really, it's only the first, functional goodness, the latter two being elaborations of it.
Goodness as a function is simple. To be good is to function properly according to a species' ideal. In the same way a good hammer is good at banging nails, and a good oven at baking bread, so a good human being is good at "human-ing" to coin a verb. The question 'what is goodness?' for ancient and mediaeval thinkers is almost invariably 'what's the function of humans?' Yet because humans have reason, unlike animals who merely follow their instincts, our function involves more than survival and reproduction. We make art and science, and can appreciate the value of things through understanding. We are the animal that is happy with a garden and a library, as Cicero says.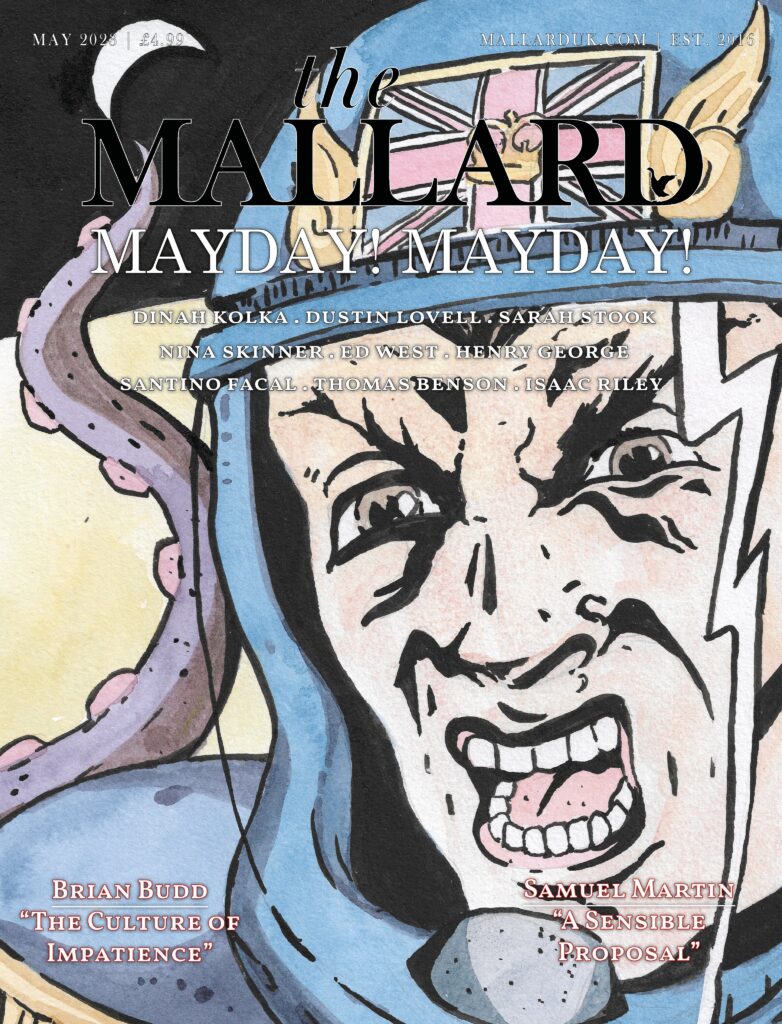 This is an excerpt from "Mayday! Mayday!". To continue reading, visit The Mallard's Shopify.
---
You Might also like
The Renaissance was a spectacular time for literature, arts, and anatomy. The sheer wealth of geographical expansion reinvigorated Europe and invited it to explore, research, and discover. This period was crucial for the conflict between religion and knowledge, a subject thoroughly explored in Doctor Faustus. The Italian Renaissance especially brought forward many crucial questions about life and death, religion, exploration and other issues.

But this is no longer at the forefront of Renaissance studies. The calls for decolonisation have been sounding for quite a while and it's slowly becoming a subject mainly discussed by right-wing self-proclaimed pseudo-intellectual political commentators. Is it still worth talking about? It might be.

Many students join the English departments armed with an entire collection of Shakespeare's works and a copy of Doctor Faustus, anticipating learning all there is to know about Renaissance in literature.

Well, those students would be sorely disappointed. The loudest calls for decolonisation have been coming from The Globe, the first Shakespearian theatre. On the very front of their website, we can see 'Anti-Racist Shakespeare' in big red letters. When looking at their blog entry from August 2020, a completely innocuous and not totally coincidental date, the quote from Professor Farah Karim-Cooper sheds a lot of light on what's happening with Shakespeare:

As the custodians of Shakespeare's most iconic theatres, we have a responsibility to talk honestly about the period from which he emerged and challenge the racist structures that remain by providing greater access to the works and demonstrating how Shakespeare speaks powerfully to our moment.

This is fascinating, as this then led to many movements to decolonise the literary genius. Universities advise students to listen to a podcast about the importance of 'decolonising Shakespeare' and the first lecture is basically a lesson on why Shakespeare is not universal and must be redefined.

The lecture material encourages students to look out for 'colonial oppression' and invites students to not only decolonise Shakespeare but also the Renaissance. Put your Marlowe in the rubbish, the reading list is now filled with race-related, women-related plays, geared not at looking into the genuine literary wealth of Shakespeare, but at intersectionality. The anti-Semitism in The Merchant of Venice is barely visible under the colossal shadow of the potential 'queerness' within the novel. The patriarchy and the search for something that isn't there take precedence over trying to uncover important truths.

The lecturers may find it laughable that some people oppose decolonisation. They seem to be engaging in strawman 'oh does that mean that we're not going to teach Shakespeare? Of course not!' But that's not the point.

I think that if we're tearing down statues in Bristol and across the US, Shakespeare is potentially one of the cultural statues that could come down

Professor Ayanna Thompson, 'Shakespeare Teachers' Conversation'

If universities endorse the above message, what signal are they sending to their students? Of course, they may laugh trying to explain that it doesn't mean literally tearing down Shakespeare, but the point stands. What they are trying to do is to reconstruct the existing understanding of Shakespeare and re-create it in order to accommodate people who hate them.

Shakespeare was a white Anglo male and lived during the beautiful age of colonial expansion. No one should be worried about saying this one way or another. There's nothing wrong with it either. I personally believe that Doctor Faustus is a far more important novel than 'The Masque of Blackness' by Ben Jonson who wrote quite a dull play about black people searching for the land where they can become white and beautiful.

I understand that this is supposed to make the students uncomfortable and convince them to engage critically with the racism in the past; but don't we all already know this? Isn't it much more productive to focus on the plays that could relate better to contemporary issues? Apparently not.

Midsummer Night's Dream is apparently about patriarchy and The Merchant of Venice is gay. The problem with academia these days is not that there are modules that are ideological; no, the ideology very easily just seeps into everything. There is no way out anymore – most academics are left-wing so naturally their modules will be geared in that direction also. This wouldn't be an issue as this has been happening for aeons. The problem is that this then creates a whole army of impressionable young people whose main focus will be the discussion on intersectionality and race when there is so much more that Shakespeare can offer. The only way to circumvent it is to rediscover the truths that Renaissance literature has to offer. Reject intersectionality and race and embrace tradition.

---

In 2014, speaking via Skype to a conference held at the Vatican, Donald Trump's later advisor, Steve Bannon, casually mentioned Julius Evola (1898-1974), a thinker little known outside Italy, and who even within Italy was conventionally dismissed as a former Fascist whose writings still exerted a pernicious influence on the 'far right'. When that comment was unearthed by the US media in 2016, it sparked a furore amongst those desperate to discredit Trump as a danger to democracy. It also drew mainstream attention to a strange and possibly wide-reaching philosophy.

Evola's Fascist sympathies went much deeper than anti-communist or nationalist sentiment, being rooted at least partly in a colourful and irrational worldview referred to by some authors (although not Evola) as 'Traditionalism'. Through him, Bannon, and so by extension Trump, were potentially 'linked' to much broader intellectual currents, with connections across everything from the abstractest metaphysics to the earthiest ecologism.

There existed, obscure but important scholars had long argued, a mystical 'perennial philosophy' of transcendent religiosity and social stratification that was simultaneously as ancient as origin myths and applicable to modern discontents. Over the centuries, this concept has attracted intellectuals as diverse as the 15th century humanist Giovanni Pico della Mirandola, and Brave New World author Aldous Huxley. Other than Evola, its best-known and most systematic modern exponents were two metaphysicians, the Frenchman René Guénon (1886-1951), and the Swiss Frithjof Schuon (1907-1998), who issued writings and launched initiatives that channeled underlying cultural gloom, and still resonate powerfully. Like Evola, Guénon did not use the term Traditionalism, but his writings are regarded as key texts.

As well as Bannon, 'Traditionalist' sympathies of some kind were avowed by, or detectable in, influencers outside America – Hungarian politician Gábor Vona, the Russian ideologue Aleksandr Dugin (whom Bannon met in 2018, and who was supposedly an influence on Putin), and the Brazilian writer, Olavo de Carvalho, credited with helping Jair Bolsonaro win the presidency in 2019. Beyond politics, the connections were even more diffuse, with well-known academics, artists and even King Charles III (when Prince of Wales), articulating Traditionalist tropes to combat anomie and materialism, and promote organic agriculture, small-scale economics, traditional arts, and interfaith dialogue. But did all these different things have anything in common other than root-and-branch discontent with a drably dispiriting status quo? What possible relevance could Traditionalists' distaste for democracy, and even politics, have for determinedly populist politicians?

This is a long-standing area of interest for Oxford-educated Arabist, Mark Sedgwick, now professor of Arab and Islamic Studies at Aarhus University. His 2003 book, Against the Modern World: Traditionalism and the Secret Intellectual History of the Twentieth Century, was the first to draw mainstream attention to Evola, Guénon, Schuon, and others dubbed or self-described as Traditionalists. He brings to this discussion special insight into Islamic influences on Traditionalism, from the inner ecstasies of Sufism to the academically distinguished elucubrations of the contemporary Iranian-American theologian, Seyyed Hossein Nasr. Along the way, he treats ably and interestingly of many subjects, from Hindu ideas about caste via 17th century theories of history to the trajectory of Western feminism, and analyses the influence of Jordan Peterson, whom he regards as a Traditionalist for the internet age.

Traditionalism is a catch-all sort of term, and its outcomes are so diverse it is difficult to discern much consistency at all. Had it not been for Bannon's remark, it is hard to imagine many even noticing Traditionalism existed. Conceptual complexity could help account for Traditionalism's apparent ascent; as the author notes, "That which is not easy to understand is not easy to deny". Sedgwick also suggests that Guénon's theories may be fundamentally flawed because based on early 20th century understandings of 'the East' which are now regarded as too colourful and generic, even condescendingly 'Orientalist'. Evola's more dynamic and Western-oriented variant is likewise a product of its time, suffused with Nietzschean contempt for Christianity, and the epochal pessimism of thinkers like Oswald Spengler (even though he criticized both). Sedgwick nevertheless treats it as a coherent corpus of thought, with much relevance for today.

The central element of all variants of Traditionalism is 'perennialism' – the notion that beneath all the exoteric differences of world religions there is a unifying 'sacred order' understood only by the deepest thinkers, although hazily intuitable by the masses, if only they can be detached from the trammels of modernity. This is not just a tradition, but the Tradition that unlocks all cosmologies, and renders the most impassioned theological and political disputes not just superficial, but almost risible. Traditionalist writings are predictably esoteric, aimed solely at a supposedly more spiritually attuned elite.

Traditionalists tend to be greatly interested in such things as hermetic philosophy, occultism, shamanism, and symbolism, and believe strongly in what the ethnomusicologist Benjamin R. Teitelbaum called "spiritual mobility" (see his 2020 book, War for Eternity). They regard 21st century preoccupations like equality, gender politics, individualism, material progress, and technology as mere aspects of modernity, harmful or simply inconsequential.

The second ingredient is a belief in cosmic circularity, as opposed to the ideas of inevitable linearity inherent in mainstream Judaism, Christianity, and Islam, and so throughout modern politics. The world, in this reading, goes through 'ages' of decline that can be followed by renewal. An original golden age of unity and quality is ineluctably succeeded by silver, bronze and ultimately dark ages of increasingly mechanistic reductionism – what Guénon memorably called the "age of quantity" – after which the cosmic wheel turns back to the start.

'Golden Age' thinking is common to many civilizations, but there are especially close parallels with the four ages (Yugas) of Hinduism, with 'Kali Yuga' (the last, sin-filled age of conflict) a shorthand term for today among 'Aryan'-interested Rightists. This process is almost irrespective of politics, although some theorists see an expeditious role for 'disruptors'. Evola saw Fascism as a means of reconstituting the Roman Empire, and Bannon saw (and perhaps still sees) Trump as a kind of creative destroyer of consensus, but politics has been a lower priority for other Traditionalists, who concentrated instead on transformation through self-realization.

It may easily be imagined that Traditionalists are prone to eccentricity; for instance, Evola believed that 'Aryans' were descended from an ethereal Arctic race which had decayed as they came south. In the 1980s, a writer calling herself "Alice Lucy Trent" officiated in County Donegal over a small community called the Silver Sisterhood, which worshipped a female deity, sported Victorian clothing, and refused to use electricity. Trent later changed her name to "Miss Martindale", and moved to Oxford, to found a movement called Aristasia in a modest terraced house, where ambiguous persons wearing dresses and veils would hold ultra-reactionary court in a candle-lit, gramophone-sounding interior, and be seen driving around town majestically in a 1950s car. It was part-pantomime, part-serious critique, at once amusing and interesting.

Sedgwick rues some Rightists' co-option of some parts of Traditionalism. Indeed, perennialism can be hard to square with ideas about a "clash of civilizations", or immigration, or belief in physical racial differences (which even Evola downplayed). He nevertheless examines their thinking with commendable fairness. He differentiates between genuinely traditional teachings about religion and society, which really can be millennia old, and 1920s-to-present-day attempts to turn some of these teachings into realities. For Sedgwick, whatever about the youthful Evola, by his late period he had become a "non-traditional Traditionalist", and the Evolan phraseology deployed by some on today's radical Right is therefore mostly "post-Traditionalism".

But logical consistency matters little in politics, even metapolitics. Traditionalism may persist as a presence on the Right, if sometimes more symbolically than as substance. Traditionalists' emphasis on arcane knowledge is intrinsically appealing to some who aspire to be elite leaders. There are also similarities in outlooks and temperaments between Traditionalists and some Rightists – shared perspectives on the manifold problems of modernity, shared detestation of bleak materialism, and shared love of grand and sweeping narratives. As the once world-bestriding West shivers in winnowing new winds, and mainstream conservatism flounders, the epic appeal of a mythical past (and implied enchanted future) seems likely to grow. Sedgwick's second book on this too long neglected theme makes another significant contribution to what may be an expanding as well as evolving field.

Book Details: Mark Sedgwick, London: Pelican, 2023, hb., 410pps., £25

My thanks to John Morgan for invaluable input on this article.

---

Roland Barthes' essay Death of the Author is required reading for many students who wish to study the humanities, such as English Literature. The general thesis of the essay is that narrative intent from the author cannot be discovered as it is impossible to know what the author's thoughts were at the time of writing. Thus, Death of the Author can be understood to mean "art without the artist" – by the reader is the only true reading. The authority of the author, and therefore the author himself, perishes.

It is an interesting and incredibly influential essay that has played a large part in the development of critical theory over the course of the 20th century. Using this as a basis, it is my belief that we can take the theory further.

Rather than experience the art in a passive way, accepting what the author produces as is, and making our own interpretations from that point, I propose that we instead take an active participation in taking art from the artist and use it to our own ends. This is much easier to do thanks to the internet, and the emergence of meme culture.

It is from meme culture that murdering the author rises. 2016 can be seen as the black swan moment for this with the election of Donald Trump and the reignition of right-wing populism. In this moment, a new breed of meme was born, and it is one of these memes that I think best exemplifies how effective murdering the author can be.

In 2017 MGMT released their song "Little Dark Age", a protest song lamenting the election of Trump. As the title suggests, the zeitgeist as the artist saw it was regressing back into a period of ignorance, ultimately taking the past 70 years of Progress with it. As recent as 2021 however, the meme remixes of this song have become increasingly popular. The song is used as a backdrop over footage designed to ignite reactionary pride – praise of Christianity and the heroic spirit are commonplace within this. My personal favourites are the ones that glorify the British Empire.

The popularity of the meme is an example of the remix culture unique to the internet, an issue with 21st century creations in general. 21st century art is stunted, and we can only find creative outlets in what has come before. This is a problem with all art and culture in the West, but has been commented on before so I will not belabour the point, except to say that our obsession with nostalgia seems to have left us bereft of creating our own cultural milieu and we are forced to stand blindly on the shoulders of giants.

We are indeed in a little dark age, and MGMT clearly felt that. It just isn't the dark age they think it is. For a generation of people brought up in countries whose hour of greatness was over, and on whom all the world's ills could be blamed, it is little surprise that a song like Little Dark Age could be used in the way it did. With lyrics like "Forgiving who you are for what you stand to gain/Just know that if you hide it doesn't go away", the song seems to be calling out to those who are trodden on by the current regime, such as political dissidents, delivering the Evolian message of riding the tiger. In the remix culture that epitomises internet trends, this is an example of destroying the meaning of a talented, well intended but misinformed artist and rewiring it for a different purpose.

No matter how MGMT feels about the current political and cultural climate, the fact remains that Little Dark Age is reactionary. It speaks of cultural degradation, inauthenticity – the sense of something being lost. MGMT have put their finger on the pulse, and their diagnosis seems apt – but the wrong patient has died.

Their anger is correct but misdirected, which is why we on the right see the song as something to be hijacked. We are not witnessing the death of the author here – instead, we are the author's murderers. We are Lenin storming the Tsar's palace in 1917. We take what is theirs and subvert it to our own ends.

The fact is that reactionary media, be it music, film, literature or television, is entirely hegemonic to the left's favour. Reactionary discourse is repeatedly shut out of the Overton window, which is panned by boomeresque false idols on one side and comical Marxist villains on the other. In order to make a point, we must use the tools of the enemy. We must be the Vietcong stealing M16s from a US military base. We take from the author what is theirs, deconstruct their arms and create something entirely new using the skeleton of their works.

We are the murderers of the author and this is our strongest weapon.

---